Hey, pss! This might interest you.
The Russian Orthodox Church: 
a sacred and suggestive place in the heart of Bari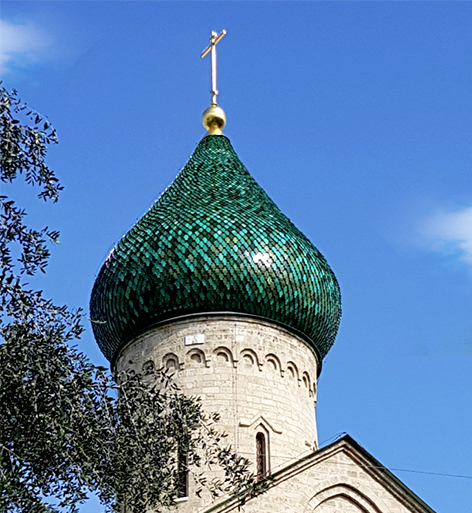 La chiesa Ortodossa Russa è uno dei luoghi più caratteristici di Bari e la sua nascita risale al XX secolo .
Come la Basilica di San Nicola anche questa struttura rappresenta un punto di riferimento per i devoti a San Nicola (il santo patrono della città di Bari), meta soprattutto di pellegrini provenienti dall'Est.
Si, perchè il pellegrinaggio dei fedeli cristiani ortodossi verso Bari non è da ricondurre esclusivamente alla Russia, ma anche a paesi come ad esempio la Romania, la Serbia e l'Ucraina, per citarne alcuni.
Ogni anno sono migliaia i fedeli che vengono a Bari per venerare il santo patrono della città, così come sono tantissimi quelli accolti dalla chiesa Russa che fin dalla sua costruzione è diventata un vero e proprio punto di riferimento del pellegrinaggio ortodosso, oltre che fare simbolicamente da ponte tra l'oriente e l'occidente.
Dunque quando verrete a Bari non potrete di certo dimenticarvi di far visita alla chiesa russa, un luogo di pace, sacro e architettonicamente bellissimo; la chiesa si trova nel quartiere Carrassi, non molto lontano dal centro della città, ma è consigliabile andarci con i mezzi pubblici.
PS: Don't forget your camera!
Where is the Russian Church located?
Tour interessanti per scoprire Bari
Opportunities to fully experience the city! And if you have an unexpected event, the cancellation is FREE .
Other things to see in Bari
Was this post helpful? You like?
Say it with a 1 to 5 heart
Average rating 5 / 5. Voti ricevuti: 1