Piazza dei Baresi is the main access point to the ancient village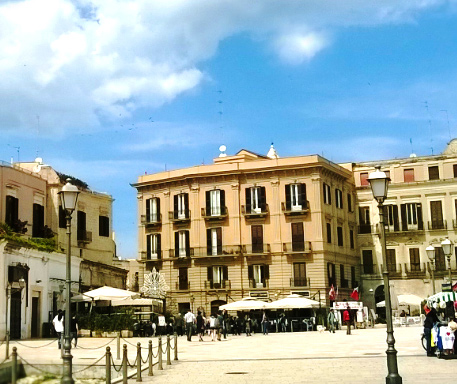 Piazza del Ferrarese , dedicated to a merchant from Ferrara for his mark left through some buildings still present in the square today, is one of the oldest and longest-lived places in Bari .
Born in the seventeenth century to facilitate the entry of goods from the old port , at that time near the square , it is the main access point to the older part of the city of Bari or the ancient village .
The square in fact acts as the glue between the old city and the new city and for this reason frequented every day by Bari and tourists.
Also from Piazza del Ferrarese it is possible to access another ancient square, called Piazza Mercantile and, above all, on the famous Via Venezia also known as "Muraglia" as well as the oldest surrounding walls of Bari from where you can admire the seafront and the old port area from above.

Piazza del Ferrarese , renovated for several years now, still retains part of the old pavement of the square itself (visible at the height of the central area); it is an excavation where the remains of the oldest pavement emerge and from where it is still possible to see the furrows left by the wagons that entered the city at that time.
Rich in history, clubs and people strolling, Piazza del Ferrarese is now a fixed and inevitable stop for those who are about to come to Bari ; a real meeting point for young people and families and also a moment of relaxation for the many tourists who want to stop and breathe the air of Bari , of the sea (adjacent to the square) and the warmth of the people of Bari.
The best-selling tours to see Bari
Opportunities to fully experience the city! And if you have an unexpected event, the cancellation is FREE .
Where is Piazza del Ferrarese located?
Other things to see in Bari
Was this post helpful? You like?
Say it with a 1 to 5 heart
Valutazione media 5 / 5. Voti ricevuti: 3