Hey! Take advantage of the Booking offers to stay in Bari!
Le suggestiva passeggiata nella storia: Gravina in Puglia, tutta da vedere e da scoprire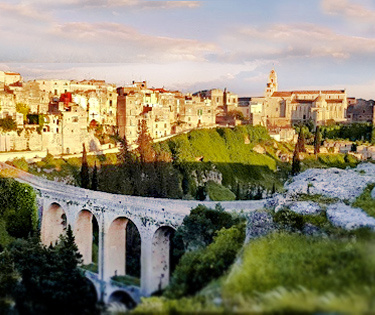 Gravina in Puglia è un suggestivo paese che sorge, per l'appunto, sui costoni di una "gravina" e un pò come Matera (molto simile per le caratteristiche  anche questa località rientra indubbiamente tra i posti più caratteristici da visitare a pochi chilometri da Bari.
Il patrimonio storico di Gravina in Puglia non è solo in superficie, ma la sua bellezza si estende persino nel sottosuolo; esiste infatti una "Gravina sotterranea" che consente ai turisti più curiosi di scoprire  sotterranei della Gravina antica, con luoghi assolutamente suggestivi quanto unici.
Recuperati e valorizzati dall'omonima associazione "Gravina Sotterranea", questi scavi possono essere visitati attraverso delle escursioni (della durata di circa 1 ora e mezza) promosse dall'associazione stessa.

Durante il percorso troverete diversi accessi a caverne, cunicoli, granai e addirittura chiese che vi faranno rivivere l'atmosfera e le abitudini dall'antica Gravina; si tratta dunque di un viaggio indietro nel tempo che non potete assolutamente perdervi se decidete di scoprire i dintorni di Bari.
Per maggiori informazioni e prenotazioni su "Gravina sotterranea" è consigliabile visitare questo sito
Dove si trova Gravina in Puglia
Other places to see near Bari
Unusual ideas to discover and see Puglia
Was this post helpful? You like?
Say it with a 1 to 5 heart
Average rating / 5. Votes received:
This post has not yet received a score! You can be the first