Hey! Take advantage of the Booking offers to stay in Bari!
Tra le strade e i vicoli del borgo antico di Conversano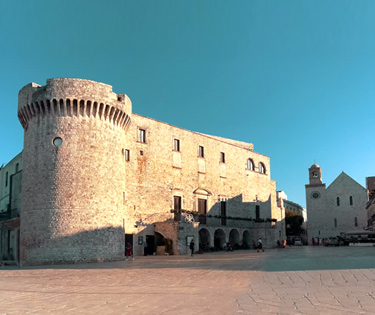 Conversano è una carinissima cittadina della provincia di Bari dalle origini molto antiche (parliamo del preromano).
La sua storia è chiaramente visibile sia dalle sue costruzioni nel old village che dalle zone dove ,ancora oggi, sono presenti alcune tracce di quello che una volta era la cinta muraria finalizzata a proteggere il paese.
Arrived at Conversano (a circa 30 km da Bari) non potete sicuramente perdervi i monumenti più preziosi: parliamo ad esempio del castello di Conversano, collocato alle porte del centro storico, nonchè in Piazza Castello, e della cattedrale presente nelle immediate vicinanze.
The Castello, di origine normanna, ospita al suo interno la pinacoteca comunale nella quale è possibile accedere ad una sezione archeologica e, soprattutto, in un'area che conserva la selezione artistica delle tele relative al pittore seicentesco napoletano Paolo Domenico Finoglia.
The Old Town invece, interamente pedonale, è diviso in tre zone: la zona medievale (il cuore pulsante di questo borgo), Casalvecchio (risalente al XIV secolo) ed infine Casalnuovo, ossia la zona più moderna della città (nata verso il XVI secolo).
Inutile dirvi quante piccole strade ci sono da scoprire e quanti bei locals danno vita a al borgo antico di Conversano; sono tanti infatti i baresi che spesso si spostano, soprattutto nel weekend, in questo suggestivo angolo sui primi rilievi delle Murge.
A proposito, Conversano è famosa per le sue ciliege, assaggiatele!
Dove si trova Conversano
Other places to see near Bari
Was this post helpful? You like?
Say it with a 1 to 5 heart
Average rating 5 / 5. Votes received: 1