Locorotondo, the ancient white Apulian village nestled in the splendid Valle d'Itria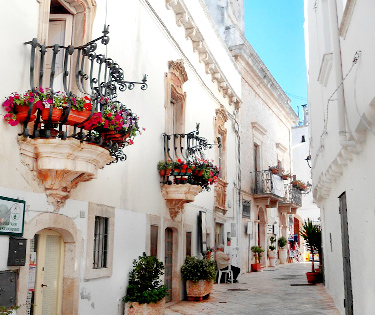 Dovete sapere che nei surroundings of Bari esiste un borgo (tra i tanti bellissimi borghi della provincia barese) molto affascinante quanto suggestivo.
Si chiama Locorotondo, una cittadina dalla forma circolare (da qui le origini del suo nome luogo-rotondo) la cui posizione domina l'intera Valle d'Itria, altra zona caratteristica del territorio pugliese dove hanno origine anche le gettonate Alberobello and Ostuni.

Locorotondo is that typical country of the south , not surprisingly counted among the most beautiful villages in Italy , whose atmosphere is rich in history and tradition retains its authenticity over time, offering tourists a unique experience of its kind.
Tra le caratteristiche architettoniche principali dello splendido borgo pugliese spiccano indubbiamente le abitazioni, gran parte rigorosamente a tetto spiovente, ribattezzate "cummerse" e che enfatizzano ulteriormente l'originalità di Locorotondo.
Altro aspetto caratterizzante di Locorotondo è la sua pianta circolare che circoscrive il Old Town ed il suo labirinto ricco di viuzze, archi, trattorie (dove assaporare piatti e prodotti tipici dal gusto pugliese) e, soprattutto, il Palazzo Comunale. Da questo luogo, adibito ora a Biblioteca Civica, è possibile godersi un belvedere sulla Valle d'Itria e sui paesi limitrofi grazie ad una interessante terrazza panoramica.
In short, the beauty of a country like Locorotondo is really difficult to give up, and if between architecture, history and nature the ancient village gives emotions in the sunlight, it is easy to imagine the splendor that shines through in the light of lanterns ; Locorotondo in the evening is a spectacle to be enjoyed, especially during the Christmas period when Christmas decorations invade the streets of the historic center capturing the beware even of those who live in the immediate vicinity.
Locorotondo is a little far from Bari , but not so much as to exclude it among your Apulian stops (we are talking about an hour by car), after all, such a jewel absolutely deserves some of your precious time.
Don't worry, you won't regret it!
Where is Locorotondo located?
Search for Hotels in Bari and visit Locorotondo
Other places to see near Bari
Was this post helpful? You like?
Say it with a 1 to 5 heart
Average rating / 5. Votes received:
This post has not yet received a score! You can be the first