Scopri una zona dove scattare foto da cartolina dello splendido lungomare di Bari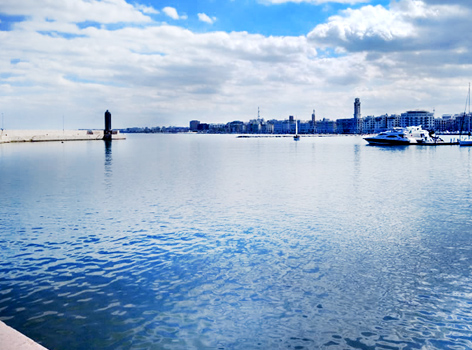 Il lungomare è indubbiamente una delle principali attrazioni di Bari, simbolo del capoluogo pugliese e della baresità, per questo motivo diventa fondamentale per un turista scoprire la posizione migliore per poter immortalare al meglio questo lunghissimo percorso.

Infatti, come già detto più volte in altre sezioni di questo sito, il lungomare di Bari è uno dei lungomari più lunghi d'Italia e d'Europa e con i suoi lampioni di ghisa che illuminano tutta la costa della città (sono 197 per la precisione) offre ogni giorno, soprattutto al calar del sole, uno spettacolo di luci e colori che solo un posto come Bari può regalare in un contesto simile. Detto ciò, quale posizione migliore per scattare delle belle foto del lungomare di Bari? Dovete sapere che esiste una terrazza, proprio sul mare, collocata precisamente sul molo Sant'Antonio, una delle più antiche strutture della città connesse al vecchio porto.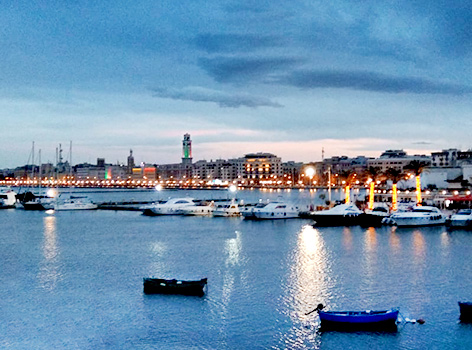 Qui lo spettacolo del lungomare di Bari è assicurato per due semplici motivi; innanzitutto questa terrazza, nonostante la modica altezza dal livello del mare, permette di godere di un panorama mozzafiato, ma cosa ancora più importante è che il punto in cui è posizionato questo interessante spazio permette di vedere non solo la zona più a Sud (prendiamo come riferimento la torre del palazzo della provincia) ma anche la zona più a Nord (Bari vecchia e porto di Bari) avendo così la possibilità di ammirare entrambe le parti dell'esteso seafront.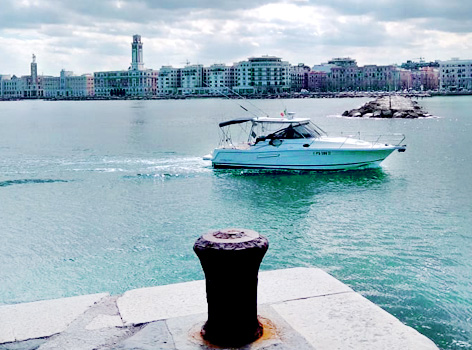 Pensate che lo spettacolo sia finito qui? Assolutamente no.
Proseguendo la vostra camminata, scendendo quindi dalla terrazza del mercato del pesce, c'è una strada che vi porta verso la punta di questo fantastico molo e che vi consentirà di raggiungere la parte più estrema del panorama; in questa zona vi sentirete quasi immersi nel mare perchè vi ritroveretste praticamente dalla parte opposta rispetto alla costa; avete capito bene, il seafront sarà proprio difronte a voi.
Dunque il molo Sant'Antonio è uno di quei posti da visitare assolutamente durante la propria esperienza a Bari, a belvedere strategico dove poter immortalare l'intero lungomare di Bari e regalarvi un perfetto ricordo di questo viaggio nel capoluogo pugliese.
Curiosità
Il molo Sant'Antonio è anche quella zona del lungomare dove ogni anno vengono posizionate le batterie dei fuochi d'artificio per la feast of St. Nicholas, il santo patrono di Bari.
Where is this viewpoint located?
Unusual tours to fully experience Bari
Opportunities to fully experience the city! And if you have an unexpected event, the cancellation is FREE .
All the viewpoints of the waterfront
Discover the places where you can better see the splendid seafront of Bari ! 5 places chosen for you to make you fully experience this Bari experience.
Other things to see in Bari
Was this post helpful? You like?
Say it with a 1 to 5 heart
Average rating / 5. Votes received:
This post has not yet received a score! You can be the first