Hey! Take advantage of the Booking offers to stay in Bari!
Sottile, leggera, gustosa: la pizza barese è una delizia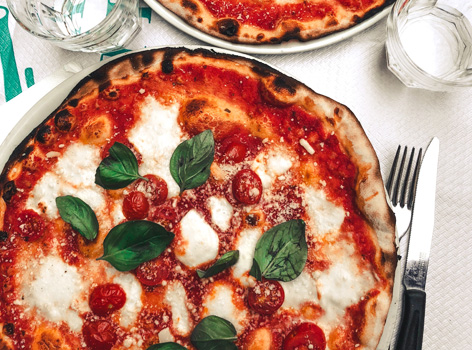 Chi non conosce la pizza?
Famosa in Italia e nel mondo la pizza è indubbiamente tra i prodotti italiani più desiderati dai palati… ma la pizza barese l'avete mai assaggiata?
Bene, se non lo avete fatto, fatelo!
The pizza barese, a differenza di quella napoletana (altra meraviglia italiana), è più sottile, ben lievitata e condita nella stragrande maggioranza delle volte con gli ottimi prodotti tipici pugliesi.
I prodotti pugliesi infatti aggiungono ulteriore valore al gusto della pizza, con mozzarelle, burrate, stracciatelle e bufale dei più buoni caseifici pugliesi che rendono la pizza barese un prodotto davvero TOP; per non parlare delle scaglie di ricotta marzotica, delle cime di rapa e chi più ne ha più ne metta (sono davvero tanti gli ingredienti disponibili).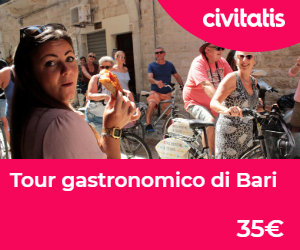 Inutile dirvi quante pizzerie troverete a Bari indipendentemente dalla vostra zona di alloggio o riferimento. Come la volete la pizza? da asporto? a tavolino? c'è l'imbarazzo della scelta, ma è impossibile non assaggiarla.
Intanto questo Blog vi suggerisce un connubio vincente: Pizza & Mare.
Se volete mangiare la pizza e godervi contestualmente l'odore del mare di Bari il consiglio è quello di spostarvi al quartiere San Cataldo (zona Faro per intenderci); li troverete diversi ristoranti/pizzerie proprio in riva al mare.
Anche in questo caso potete decidere se prenderla da asporto e gustarvela fronte mare (ci sono muretti e spazi dove potersi appoggiare) oppure se stare più comodi sedendovi in uno dei locali che troverete in quella zona.
Decidete voi, ma non andate via da Bari senza aver assaggiato la Pizza barese!
Discover Bari's pasta and street food!
Opportunities to fully experience the city! And if you have an unexpected event, the cancellation is FREE .
Other dishes and typical products of Bari
Was this post helpful? You like?
Say it with a 1 to 5 heart
Average rating / 5. Votes received:
This post has not yet received a score! You can be the first