Hey, pss! This might interest you.
What is BariExperience
BariExperience.com is an ambitious Destination Marketing project in the Bari area, born on the initiative of Ivan Giuliani, a citizen of Bari and a Marketer by trade, with many years of experience in web development and digital strategies.
The goal is to tell, enhance and promote the territory, communicating to the tourist in a simple, direct, creative and exciting way all that it is possible to see and do in the heart of Puglia.
The Blog, which has also become the official partner of Confguide Confcommercio Bari-Bat, reaches thousands of users from all over the world every month, with increasingly growing numbers: Rome, Milan, Amsterdam, Berlin, London, Prague, Paris, Madrid, New York… are just some of the hundreds of cities from which visitors to BariExperience.com arrive (only in 2022 the site was visited by over 130,000 users globally).
The success of the project has been documented over time by various newspapers such as: BariToday, La Gazzetta del Mezzogiorno, La Repubblica, Corriere del Mezzogiorno, Telebari, Bari VIVA and various others.
Bari, in addition to being a beautiful city rich in resources , is also the capital of one of the regions considered to be among the most beautiful to visit in the world (source National Geographic), one of the many reasons why this territory deserves visibility . On BariExperience it is possible to know places, tips, ideas, unusual places, traditions, trends, experiences, climate and flavors of territory, preparing the visitor for what will be his pleasant experience in the city and its surroundings.
BariExperience is my experience, yours and of all those who are going to discover and visit Bari, to breathe the air of Bari, to experience the life and history of this territory.

I'm Ivan, I'm from Bari and this is my blog, as well as an idea, a concept, an opportunity for everyone, but above all a small step towards the beginning of a experiential journey in the lands of Bari and in the immediate vicinity. If you want to find out more, read on.
The Blog of a Bari: let me introduce myself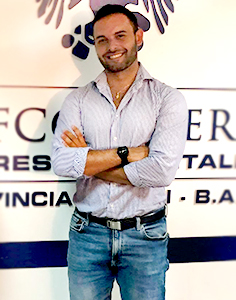 My name is Ivan , I am from Bari and I am not a blogger .
It might seem strange to you since you are consulting a blog, but in my professional life I deal with Web, Communication & Marketing and in my spare time I take care of and manage this blog meticulously.
BariExperience.com was conceived, designed and developed entirely and independently by myself and without the support of agencies or investors (yes, you got it right, this project is free of charge ) ; a great site born basically from the combination of two great passions, one for my work and unconditional love for my land.
Well ... but why this commitment?

Surely you are wondering "but who made him do it ?!"
To this question I answer that the idea of ​​being able to do something that could contribute to the enhancement of my territory has always been my fascinated, hence the conviction to take advantage of my expertise in Marketing and Digital and to do it for free for my city, promoting its colors, places, flavors and all those unusual declinations of Bari which attract Bari, tourists and travelers and which for obvious reasons I believe have extremely in need of communication .
Enhance the land of Bari

At the moment I am not in a position to be able to suggest ideas, propose innovative solutions or projects to better promote the territory (although I would not mind offering some suggestions and contributing to the enhancement of the Land of Bari); however, aware of the enormous potential offered by the web and having expertise in the sector, I believe I can still offer my contribution to the cause and make it visible to the world , for the benefit of my city, of travelers and probably of the entire local tourism chain .
All this for me is already a great source of pride and determination, but I would be even more proud if this commitment could be, perhaps in the future, supported, valued and shared even from several sources ... basically promoting the he image of Bari in the world should be a common goal of extraordinary importance.
Collaboration with ConfGuide

Bariexperience.com is not a cathedral in the desert of general disinterest but, on the contrary, has already attracted the attention of various local tourism realities, all of which are ConfGuide Confcommercio Bari-Bat with which a collaboration is active to promote together the territory and experiential tourism through this site which, we remind you, is getting thousands of visits from all over the world.
Several important Partners collaborate with ConfGuide Bari-Bat to relaunch tourism in Bari and its province, so joining the network can only push me to carry on this digital project of which the president of ConfGuide, Dr. Pietro Palermo, sensed its potential, both for the visibility of the territory and for the possible opportunities for the local tourist supply chain.
The point is that ...

Bari is a city in strong growth and expansion , every year there are millions of tourists who find in Bari a point of reference for a holiday in Puglia and who want to find out more about this wonderful seaside town, with a thousand-year history and a gastronomic culture known all over the world.
… and so

Hence the idea of ​​ offering Bari, FOR Bari, TOGETHER in Bari , a small, gracious and personal showcase to consult to satisfy curiosity and interest, but above all to thrill the tourist even before experiencing the experience in the city and around the Apulian capital.
They talked about Bari Experience
Numbers of Bariexperience.com
Find out where they visit Bariexperience.com. This blog reaches thousands of people from all over the world: Rome, Milan, Berlin, Amsterdam, Madrid, Budapest, Warsaw, New York, Sydney are some of the hundreds of cities from which they consult the site.
Don't believe it? Look at these numbers.
I hope you enjoy all of this 😉
Would you like to let me know?
Have a great idea for Bari Experience?
Was this post helpful? You like?
Say it with a 1 to 5 heart
Valutazione media 4.7 / 5. Voti ricevuti: 13