Hey, pss! This might interest you.
What is BariExperience
BariExperience.com is an ambitious digital project aimed at the enhancement and visibility of the territory. Specifically, it is the Blog of a citizen of Bari , born with the intention of telling Bari with different eyes, those of tourists and travelers curious to know in a short time all that the city and the surrounding area have to offer.
Bari is a city rich in resources , which is why deserves visibility; the blog, in fact, has the purpose to tell - in a few simple lines - places, tips, ideas, unusual places, traditions, trends, climate and flavors of the territory, preparing the visitor for what will be the its pleasant experience in the city and its surroundings.
Hence the name BariExperience , my experience, yours and of all those who are about to discover and visit Bari, to breathe the air of Bari, to experience the life and history of Bari .
BariExperience is an idea, a concept, an opportunity, but above all a small step towards the beginning of this experience in our beautiful area.
Ti piace questa idea?
Aiutami a sostenere il blog
Se ti va, offrimi un caffè  ☕️

Donazione sicura su circuito criptato
PayPal
The Blog of a Bari: let me introduce myself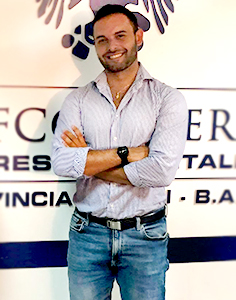 My name is Ivan , I am from Bari and I am not a blogger .
It might seem strange to you since you are consulting a blog, but in my professional life I deal with Web, Communication & Marketing and in my spare time I take care of and manage this blog meticulously.
BariExperience.com was conceived, designed and developed entirely and independently by the undersigned and without the financial support of anyone; a blog fundamentally born from the combination of two great passions, one for my work and unconditional love for my land.
Well ... but why this commitment?

Surely you are wondering "but who made him do it ?!"
To this question I answer you that the idea of ​​being able to do something that could contribute to the enhancement of my territory has always had me fascinated, hence the conviction to exploit my expertise in Marketing and Digital and to do it for free for my city, promoting its colors, places, flavors and all those unusual declinations of Bari which attract tourists and travelers from Bari and which for obvious reasons I believe have extremely in need of visibility .
The dream in the drawer

At the moment I am not in a position to be able to suggest ideas, propose innovative solutions or projects to better promote the territory (yet if I had the possibility to do so, I would gladly offer some suggestions); however, aware of the enormous potential offered by the web and having expertise in the sector, I believe I can still offer my contribution to the cause and make it visible to the world , for the benefit of my city, of travelers and probably of the entire local tourism sector .
All this for me is already a great source of pride and determination, but I would be even more proud if this commitment could be, perhaps in the future, supported, valued and shared even by several sources ... basically promoting the he image of Bari in the world is not a trivial matter.
Collaboration with ConfGuide

Bariexperience.com is not a cathedral in the desert of general disinterest but, on the contrary, has already attracted the attention of various local tourism realities, all of which are ConfGuide Confcommercio Bari-Bat with which a collaboration is active to promote together the territory and experiential tourism through this site which, we remind you, is getting thousands of visits from all over the world.
Several important Partners collaborate with ConfGuide Bari-Bat to relaunch tourism in Bari and its province, so joining the network can only push me to carry on this digital project of which the president of ConfGuide, Dr. Pietro Palermo, sensed its potential, both for the visibility of the territory and for the possible opportunities for the local tourist supply chain.
The point is that ...

Bari is a city in strong growth and expansion , every year there are millions of tourists who find in Bari a point of reference for a holiday in Puglia and who want to find out more about this wonderful seaside town, with a thousand-year history and a gastronomic culture known all over the world.
… and so

Hence the idea of ​​ offering Bari, PER Bari, TOGETHER in Bari , a small, gracious and personal showcase to consult to satisfy curiosity and interest, but above all to thrill the tourist even before experiencing the experience in the city.
Mi auguro che tutto questo sia di tuo gradimento 😉
Me lo vuoi far sapere?
Numbers of Bariexperience.com
Curious to know the numbers generated by Bariexperience.com ? This blog is visited by thousands of people from all over the world; see immediately where users are coming from!
Was this post helpful? You like?
Say it with a 1 to 5 heart
Average rating 4.7 / 5. Voti ricevuti: 13