Car and scooter rental promotion
The open-air museum of Bari: the precious San Pietro archaeological area in the heart of Bari Vecchia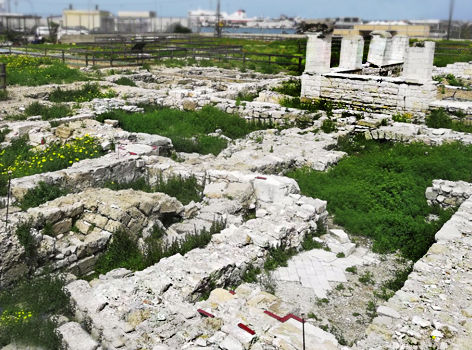 The San Pietro archaeological area is one of the most ancient and significant areas of Bari as it reflects a concentration of eras ranging from prehistoric times to our days.
Adjacent to the Museum of Santa Scolastica , exactly on the tip of the wall surrounding the ancient village of Bari (near the new port), this area shows all the signs of a very long history made up of ups and downs, sometimes quite troubled.
What remains today are the remains of an intertwining of events and legends that start from the beginning of Christianity; in fact, in this area there was initially a church which, according to legend, was founded by San Pietro during his occasional stay in Bari .
The church was later demolished and replaced by a convent (we are talking about the 16th century) and then changed its use and became a consortium hospital two centuries later.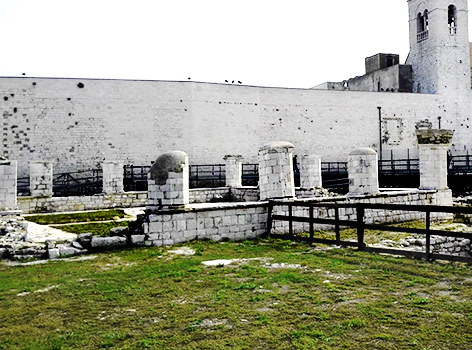 This is the last transformation that took place in the area as a result of the bombing and tragic events at the port of Bari (a stone's throw from the site) during the World War the building was seriously damaged, then abandoned and finally demolished.
Years later, the excavations carried out have brought to light the entire historical course of this area, re-emerging the remains of the prehistoric village to which those Romanesque, medieval overlapped, up to the foundations of the convent and the adjacent buildings.
When you visit the archaeological area of ​​San Pietro , and the Museum of Santa Scolastica , you will realize how much treasure Bari preserves; and if you are a cruise traveler you will be a stone's throw from there (the port is in the immediate vicinity), impossible not to go there!
For opening hours and multilingual guided tours you can consult this site
Dove si trova l'area archeologica a Bari Vecchia?
The best-selling tours to see Bari
Opportunities to fully experience the city! And if you have an unexpected event, the cancellation is FREE .
Other things to see in Bari
Was this post helpful? You like?
Say it with a 1 to 5 heart
Valutazione media 5 / 5. Voti ricevuti: 1
Car and scooter rental promotion