Car and scooter rental promotion
Discover Bari becomes fun.
Rent an electric scooter and speed up your ride through the streets of the center
Who knows how many of you would like to see Bari but don't have much time to disposition to be able to turn it.
Maybe you will be here for work, or for a few hours of autonomy after getting off a cruise ship ; however, whatever your situation, why not think of the rental of an electric scooter ?
Thanks to this nice initiative of the municipality of Bari , anyone who wants to turn the streets of the center and the main places of historical interest could certainly take consider this option to speed up the times and make your Bari experience even more pleasant.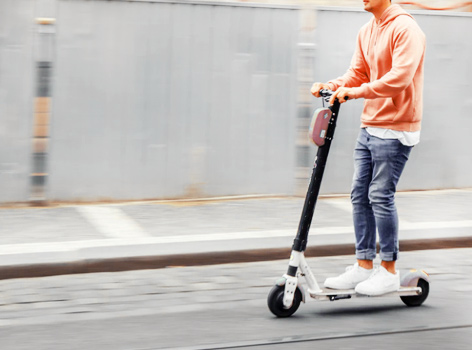 The service "Scooter Sharing" is active 24 hours a day and allows precisely the rental of a scooter with really cheap rates (we are talking about € 1 for the release of the scooter and 0.15 cents per minute).
Translated means that if for example we wanted to rent our scooter for 30 minutes it would cost around € 5.50.
How does the service work? Just download the Helbiz APP (available for both IOS and Android) to find the closest scooter (the scooters will be grouped in different areas of Bari ) and a once arrived on the site, scan the QR code on the handlebar to unlock the vehicle.
Once the race is over, it will be possible to leave the electric scooter even in a different point from which it was rented , the so-called "One Way" mode.
So if the time at your disposal to see Bari is really reduced to a minimum, surely the rental of the electric scooter could be a nice idea not only for going around in the Bari city center as an alternative , but above all to speed up the times (always with the utmost respect for the highway code).
Regarding this, the use of a helmet is mandatory for minors under the age of 14 .
In which areas do I find scooters?
You will surely have no problem looking for the area in order to rent scooters . The service is present in a widespread way in the main neighborhoods of the city, especially in the pedestrian areas of the center of Bari , of the seafront and of Bari Vecchia . But if you want to know exactly download the dedicated App.
The best-selling tours to see Bari
Opportunities to fully experience the city! And if you have an unexpected event, the cancellation is FREE .
Other ideas for your entertainment
Was this post helpful? You like?
Say it with a 1 to 5 heart
Valutazione media 3.7 / 5. Voti ricevuti: 3
Car and scooter rental promotion