Car and scooter rental promotion
Admire one of the longest promenades in Europe: the 5 best viewpoints not to be missed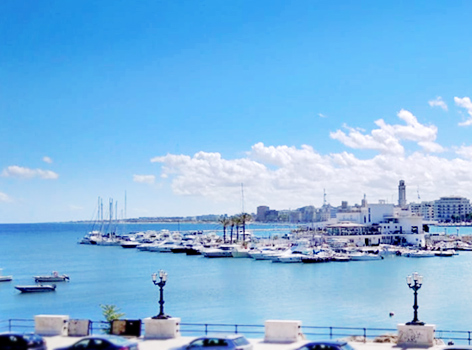 When you arrive in Bari the seafront is one of those places that you can't help but visit.
With its dense array of street lamps (197 to be exact) the seafront characterizes the coast of the capital and becomes one of the major attractions of the splendid Apulian city .
But what you are surely wondering right now is if there are any areas of Bari from which it is possible to admire this wonderful landscape in all its entirety.
The answer is obviously yes, and when you discover these places it will be a long time before you decide to leave because the show that will present itself to your eyes will be worth your precious time.
Whether it is morning or evening, of course, it makes no difference, the charm of one of the longest and most beautiful promenades in Italy and Europe has the power to enchant anyone at any time of the day.
After this brief introduction let's move on to the substance, here are 4 points where you can have a breathtaking view of Bari and its splendid seafront.
Belvedere from Molo San Nicola
Belvedere from Largo Giannella
Belvedere from Fortino Sant'Antonio
Vicinanze Molo Sant'Antonio
Il punto migliore per scattare delle bellissime fotografie del lungomare
In questa pagina ne hai visti 5, ma qui troverai probabilmente il miglior punto per poter vedere, da nord a sud, l'intero lungomare di Bari! Che aspetti? Guarda subito questo articolo!
Other experiences in Bari
Was this post helpful? You like?
Say it with a 1 to 5 heart
Valutazione media 4 / 5. Voti ricevuti: 4
Car and scooter rental promotion