4 streets to see absolutely during a walk through the alleys of old Bari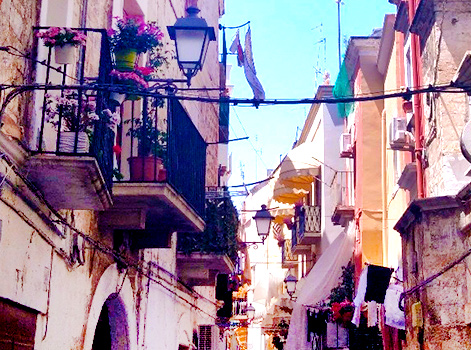 Old Bari is a labyrinth of alleys which is really easy to get lost as much as to fall in love with, which is why it is highly recommended to take as many streets as possible to be fascinated.

This premise is necessary for you to look for not only the four roads proposed in this article, but everything that can substantially make your experience in the ancient village unique and memorable. Returning to us, now we will discover together a small selection made especially for you to recommend some streets of old Bari that you absolutely must not miss.
Some reasons? First of all, they are very popular with tourists (and this is already a sign) , furthermore you have the opportunity to discover some trends and habits of the people of this small neighborhood and, above all, you can decide to stop along these streets to taste some typical products of Bari such as sgagliozze and the legendary focaccia .
1) Via Venezia, the old Bari wall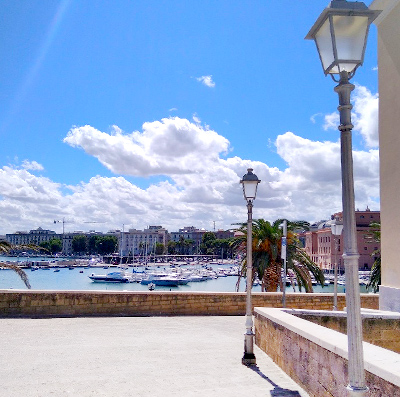 Probably the first road you will take when arriving in Bari vecchia .
Via Venezia is the road that from Piazza del Ferrarese , one of the main entrance squares to the ancient village, will accompany you along the splendid wall that surrounds a full-bodied side of Bari Vecchia . From this ancient wall you can admire "from above" the characteristic seafront of Bari (here one of the best viewpoints to enjoy it) , crossing along the path the Fortino di Sant'Antonio (the old city tower) , the Basilica of San Nicola and the Archaeological Museum of Santa Scolastica .
2) Strada Arco Basso, the way of the orecchiette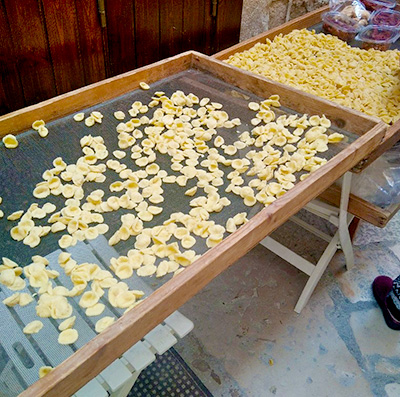 How not to mention, among the streets to visit in old Bari a, the suggestive Strada Arco Basso , renamed as the via delle orecchiette ?
This alley, in addition to being characterized by the typical houses of the neighborhood, is famous for the ladies who prepare and sell fresh pasta every day in front of the hundreds of tourists who cross the street every day. A tasty and engaging attraction that over time has become a ritual for those who look out for the first time in the oldest district of Bari . Not to be missed.
3) Strada Palazzo di Città and the Bari focaccia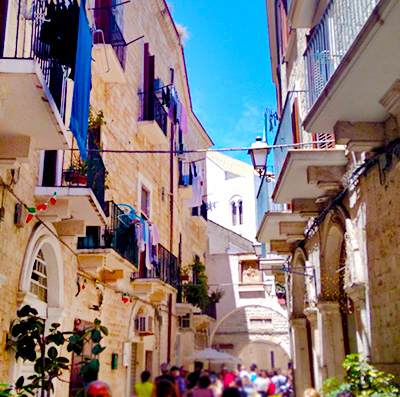 Another very interesting street to take is S trada Palazzo di Città .
In this street, very popular as it is close to Piazza Mercantile , another historic square in Bari vecchia , you will have the opportunity to admire the architecture of some houses in the ancient village and, above all, to taste the legendary focaccia from Bari . In fact, on this street there is a famous oven that has been preparing focaccia since 1930, one of the typical products of Bari that satisfies the palates of young and old at any time of the day. Yes, because if the smell of focaccia envelops you, you can't help but want it.

4) Strada del Carmine / Strada delle Crusades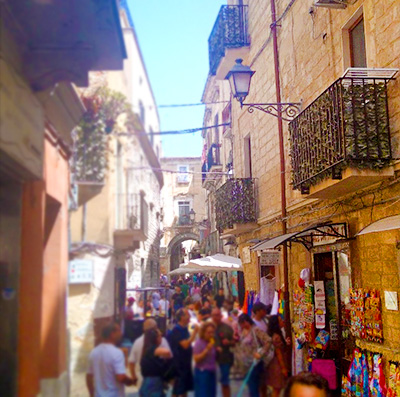 Finally, and certainly not in order of importance, two roads joined by the same route: Strada del Carmine and Strada delle Crociate .
This long road connects Basilica of San Nicola with the Cathedral of San Sabino and along the way you will find several nice shops, small bars, stalls with fruit and ladies who prepare and fry sgagliozze and popizze (other typical Bari products that you can't help but taste) . Added to this, of course, is the sympathy of the people of Bari and the typical trends of the neighborhood, such as that of going from one alley to another by motorbike and honking.

You may also be interested in ...
Other experiences to do in Bari
Was this post helpful? You like?
Say it with a 1 to 5 heart
Average rating / 5. Voti ricevuti:
This post has not yet received a score! You can be the first