Hey! Take advantage of the Booking offers to stay in Bari!
Street food from Bari: here is the irresistible focaccia, famous throughout Italy, and beyond ...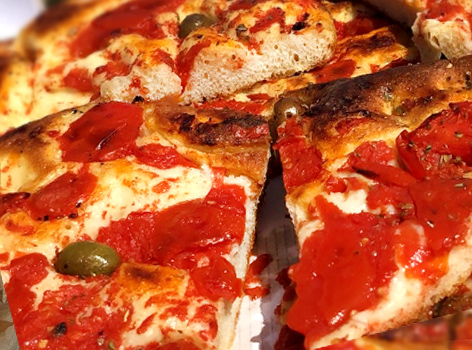 Partiamo da un presupposto: quando arrivate a Bari una delle prime cose che dovete fare è assaggiare la focaccia barese!

Suffice it to say that it was awarded as the best in Italy at Fico Eatalyworld in Bologna
The focaccia in Bari is practically an institution, there is no man, woman or child who doesn't like it (or so it seems). You will find this typically Bari product in practically any bakery in Bari and its surroundings .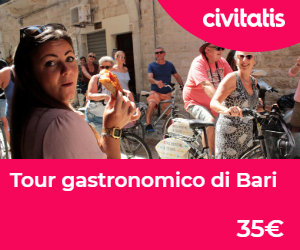 The focaccia has a decidedly inviting appearance thanks to its dough, with a soft and simultaneously crunchy aspect, and the quantity of tomatoes and olives present on it. This typical Bari recipe is normally considered as a snack to be enjoyed at any time of the day and in any place (it is no coincidence that it is among the products of Bari street food , but it can also be ideal to cover lunch and even dinner ... some even eat it for breakfast!
Quando andrete a comprarla da un panificio il consiglio è quello di metterci sopra anche dei salumi, in modo particolare la mortadella; sappiate infatti che a Bari l'abbinamento per eccellenza è la focaccia con la mortadella.
While for those who do not like tomato peel, know that there is also the white one, that is without tomato and with a little oregano .. but it is not quite the same thing.
However, the advice is to taste it both in a way that in the other 😉
A walk of about 3 hours to savor focaccia , panzerotti , sgagliozze and other products of Bari street food !
Discover Bari's pasta and street food!
Opportunities to fully experience the city! And if you have an unexpected event, the cancellation is FREE .
Other dishes and typical products of Bari
Was this post helpful? You like?
Say it with a 1 to 5 heart
Average rating / 5. Votes received:
This post has not yet received a score! You can be the first