Hey, pss! This might interest you.
From poor cuisine to a flagship product of street food: the tasty fried panzerotto!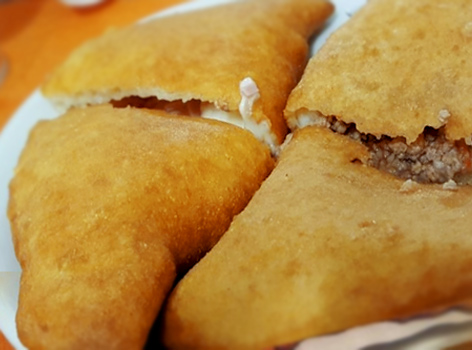 The fried panzerotto is a typical Bari and Apulian specialty that has been satisfying the palates of young and old for many years.
Si tratta di un impasto, molto simile a quello della pizza, ripieno di pomodoro e mozzarella (come vuole la tradizione) e fritto in olio di semi.
Tuttavia il panzerotto può essere farcito in tantissimi modi, fondamentalmente a seconda dei propri gusti; c'è chi lo preferisce ripieno di carne, chi di mortadella e provolone, chi di stracciatella e salame, ecc..
Dunque il panzerotto di Bari, essendo un prodotto da rosticceria, rientra in quello che possiamo definire "street food", ed è talmente consumato a Bari che non potete assolutamente perdervelo.

A Bari ci sono tantissime rosticcerie e pizzerie che sfornano ogni giorno panzerotti fritti, alcuni anche molto conosciuti e che hanno fatto del panzerotto fritto il loro cavallo di battaglia.
Da provare e da gustare!
A walk of about 3 hours to savor panzerotto , focaccia , sgagliozze and other products of Bari street food !
Other dishes and typical products of Bari
Was this post helpful? You like?
Say it with a 1 to 5 heart
Valutazione media / 5. Voti ricevuti:
This post has not yet received a score! You can be the first
Hey, pss! This might interest you.