Car and scooter rental promotion
A walk through the characteristic alleys of Bari Vecchia: breathe the history of the ancient town of Bari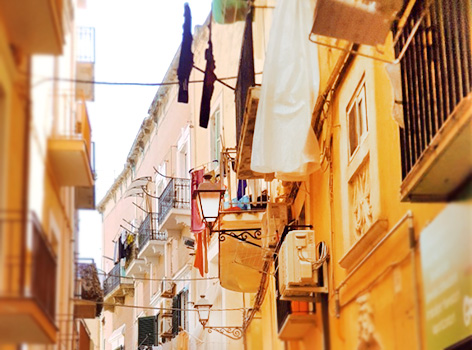 Bari Vecchia is a place where time seems to have stopped in its simplicity and genuineness.
The style of the buildings in the ancient village reflects the intertwining of the various eras that have characterized the architecture and everyday life of this neighborhood .
Inside Bari Vecchia , and in the perimeter area, there are most of the treasures that this city preserves; let's talk about the Basilica of San Nicola , del Archaeological Museum , from Cathedral of San Sabino , dell ' San Pietro archaeological area , the Castello Svevo and so on ..
But the added value to all this is contained in the alleys of the old town where, walking through the narrow streets of this village , you can breathe an air of history , tradition and habits handed down from generation to generation.
Discover Old Bari in 2 hours
Opportunities to fully experience the city! And if you have an unexpected event, the cancellation is FREE .
And if on the one hand Bari Vecchia offers a unique experience for the many visitors who flock to the alleys of the ancient village every day (don't forget to also discover the Underground Bari ), on the other it is also an area of ​​ entertainment and nightlife as it allows young people and families to spend a few hours in company in an area full of clubs , some of them very characteristic , and to enjoy the atmosphere that only walking the streets of the old city di Bari is possible to perceive.
Another interesting aspect concerns the wall of Bari Vecchia , a real strength of this district because it allows not only to travel the entire perimeter area of ​​the ancient village , but above all to enjoy an exclusive panorama such as Bari seafront .

In this regard, if you are lucky, you could witness breathtaking sunsets or see in the distance the passage of fishermen who, with their boats , still make your experience on the wall of the historic center of Bari is more impressive.
Alcune foto di Bari Vecchia
You may also be interested in ...
The best-selling tours to see Bari
Opportunities to fully experience the city! And if you have an unexpected event, the cancellation is FREE .
Other things to see in Bari
Was this post helpful? You like?
Say it with a 1 to 5 heart
Valutazione media 5 / 5. Voti ricevuti: 1
Car and scooter rental promotion