Hey, pss! This might interest you.
A journey through the suggestive alleys of the trulli of Alberobello, a spectacle that can be reached in a short time from Bari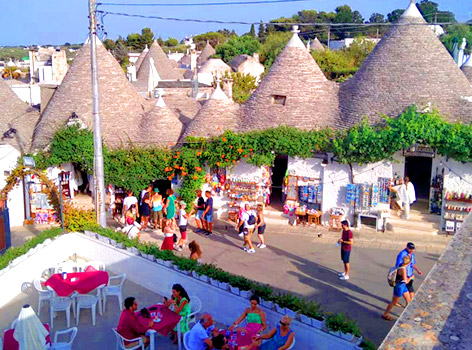 My holidays have just begun and for this reason I decided to return to a magical place, that of the trulli of Alberobello .

Alberobello is not only one of the most sought after destinations by tourists, but it is above all one of those places to see at least once in a lifetime, first of all because (it is good to remember) Alberobello is included in the list world heritage of UNESCO World Heritage Sites and then because a place like Alberobello is truly unique in the world thanks to the architecture of its magnificent trulli .

The interesting thing is that such a beautiful place as requested by tourists is a few kilometers from the Apulian capital , one of the main reasons why I have always maintained that staying in Bari can be a really smart choice if you want to see many of the splendi's main attractions from Puglia .
But let's get back to us, as I said before I went back to Alberobello and I immediately realized how lucky we are to live in Puglia , but above all how beautiful it is to see my region always full of Italian and foreign tourists. Lots of people not only among the trulli of Alberobello but also among the numerous restaurants and trattoria in the area, a sign of how much the typical cuisine of place is literally stormed. And what about the fantastic little shops selling souvenirs ? Apart from that many of these are really beautiful to look at, both from the outside and from the inside, but then they have so much stuff that it is really difficult to leave without having taken a souvenir; there is everything, and for the sweet tooth (or for those with a good fork) there are even boccacci with typical Apulian products!
What can I say, fantastic.

Ma non ho intenzione di dilungarmi ancora perchè con molta probabilità sei su questa pagina per scoprire cosa ti aspetta in quel di Alberobello and cosa c'è da vedere.
Per tua fortuna non mi sono limitato a fare delle foto (che troverai dopo questo articolo) ma ho realizzato un video che ho successivamente postato su Facebook (approfitto per invitarti a seguire Bariexperience.com anche sui Social se ti interessa scoprire Bari and surroundings); per questo motivo te lo ripropongo qui nella speranza che possa esserti utile.


If, on the other hand, you are a photography enthusiast, or in any case you prefer images to videos, then surely you will be curious to see the photos taken by me to show you the trulli of Alberobello . So here are some beautiful pictures of my day in the capital of the trulli with the hope that you too can have the opportunity to visit this magical place which, we remember, is characteristic at any time of the year; if summer Alberobello is cheerful and colorful, in winter it is pretty and charming (especially in recent years Alberobello lights up at Christmas and Valentine's Day thanks to some suggestive themed lights).

See you next time!
Ivan G.
Do you want to discover the interiors of the only Trullo in Alberobello built on two levels? A few euros and you can get in!
Other places to see in Puglia, near Bari
Find cheap accommodation in Bari
Was this post helpful? You like?
Say it with a 1 to 5 heart
Average rating / 5. Voti ricevuti:
This post has not yet received a score! You can be the first