Hey, pss! This might interest you.
Here are some photos of the first evening of the Food Truck Festival in Bari: Italian food in a street food key!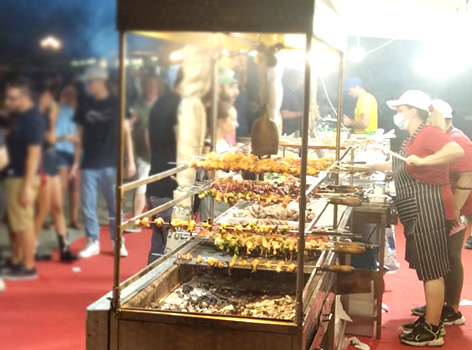 A few days ago I posted on the blog the news about the arrival in Bari (for the first time) of the Food Truck Festival , a dedicated event street food to be able to taste the authentic taste of the best Italian street food .

Exceptional location (we are talking about Largo Giannella , in the heart of the seafront of Bari ) fantastic food, lots of talk and healthy fun, all with a frame of music thanks to a very nice band that animated a particularly hot and humid evening. I said I couldn't miss the street food festival , after all who doesn't like street food by the sea? And in fact I have kept my word, as now I show you some photos taken during the first evening of this tasty international format!

Ah, I forgot… do you want to know what I ate? A nice sandwich with porchetta, fried potatoes taken from a Apulian stand (which also made excellent fried panzerotti from Bari) and finally an authentic Neapolitan baba from a Neapolitan stand. I won't tell you what I got to drink because as a teetotaler I don't have much to tell you 🙂
Well, considering that in all likelihood you will be getting a little mouth watering, I would say to end this very short article with a flourish: here below some images of the evening .

See you next time!
Ivan G.
Discover Bari cuisine and street food
Find cheap accommodation in Bari
You may also be interested
Was this post helpful? You like?
Say it with a 1 to 5 heart
Average rating / 5. Votes received:
This post has not yet received a score! You can be the first