#WeAreHere: Take a picture with our PDF and tag us on Facebook.
The best photos will be awarded!
La tradizione barese prima del rientro a casa, il cornetto!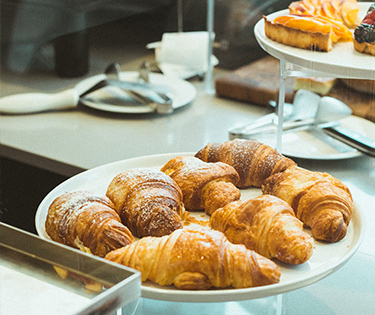 Ebbene si, al palato non si comanda.
La sera, ma in particolar modo nel weekend, è frequente l'idea di passare dal bar di fiducia, o dalla cornetteria dell'amico, per gustarsi un bel cornetto prima del rientro.
to Bari è praticamente un rito, sono tanti infatti i gruppi di giovani che dopo una bella tavolata (magari in pizzeria) decidono di spostarsi in massa verso un laboratorio di cornetti per addolcire un pò la mente ed eliminare il sapore del salato appena consumato.
In città non manca davvero nulla: tra bar, pasticcerie and laboratori aperti di notte avete solamente l'imbarazzo della scelta… dipende tutto dai propri gusti e necessità, c'è chi ad esempio il cornetto lo gradisce piccolo, chi lo vuole più grande, chi ripieno di cioccolato e panna, chi semplicemente ripieno di crema  e via discorrendo.. indipendentemente dal vostro desiderio troverete sicuramente il posto giusto!
Alcune idee? Ecco dove potreste trovare dei bei cornetti caldi!
Other ideas for your entertainment
Was this post helpful? You like?
Say it with a 1 to 5 heart
Valutazione media / 5. Voti ricevuti:
This post has not yet received a score! You can be the first