Street food and Bari seafront: the winning combination to satisfy the palate and the mind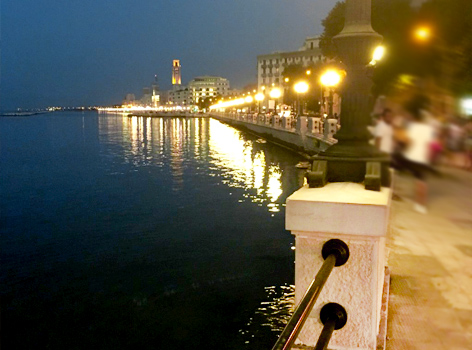 Se c'è una cosa comune a tutte le città è sicuramente lo street food, ma se c'è qualcosa che non tutte le città hanno è indubbiamente il lungomare di Bari 😉
street food is a widely used and popular practice given the frequent turnout and popularity of street food ; imagine if you add to all this a unique setting to make your dining experience even more enjoyable, the seafront .
In fact, along the coast of the city you will often meet nice caravans with tasty hot dogs, and more, and many people waiting for their turn.

Eating a sandwich by the sea is a timeless ritual handed down from generation to generation, as well as the activities of those who sell sandwiches passed from parent to child to satisfy the palates of the people of Bari.
Quando verrete a Bari e passerete la sera in alcune zone del seafront, con molta probabilità sarete attratti dagli odori inconfondibili dei panini e delle patate fritte misti all'odore di mare; il connubio perfetto per sedersi sulle panchine e gustarsi lo street food barese.
Vietato non fermarsi 😉 
A walk of about 3 hours to savor focaccia , panzerotti , sgagliozze and other products of Bari street food !
Discover Bari's pasta and street food!
Opportunities to fully experience the city! And if you have an unexpected event, the cancellation is FREE .
Was this post helpful? You like?
Say it with a 1 to 5 heart
Valutazione media 4 / 5. Voti ricevuti: 1