Arrive from the Bari Centrale railway station
Car and scooter rental promotion
Bari Centrale railway station: where it is located and how to book a train to Bari
The central station of Bari is one of the 14 largest railway stations in Italy.
Thousands of passengers pass through here every day, as are many tourists who use the railway network to reach Bari.
If you are looking for a train to the capital of Puglia , the advice is to visit a platform that allows you to compare the fares of different companies to find the cheapest ticket to get to Bari .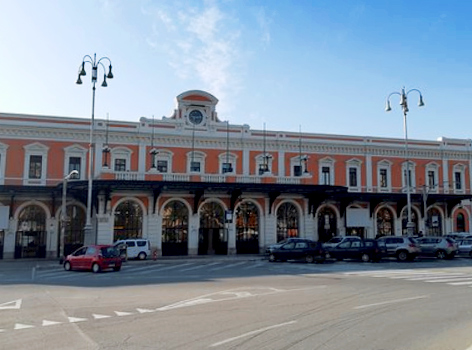 The Bari station can be reached from most of the main Italian cities (Rome, Milan, Bologna , Naples to name a few), obviously including the Apulian provinces (Foggia, Brindisi, Lecce, Taranto).
Thanks to its strategic position from the station it is possible to arrive in a few minutes in the main attractions of the city such as Bari Vecchia and the seafront .
Furthermore, always from the station, it is possible to reach the Karol Wojtyla International Airport thanks to the introduction of an underground line (FR2 or FM2) which in about 15 minutes takes you directly to the airport stop (Bari Palese) and the other way around
Inside the station you will find info points for obtaining information, automatic ticket machines, bars and waiting rooms. If you want to check which trains lead to Bari central station and related costs, it is advisable to visit the Trenitalia and Ferrotramviaria websites.
Alternatively, there are online services / platforms that allow you to compare the prices of different companies in order to find the solution that best suits your needs.
Useful information and advice
Where is the Bari Centrale station?
Was this post helpful? You like?
Say it with a 1 to 5 heart
Valutazione media 5 / 5. Voti ricevuti: 1
Car and scooter rental promotion