Arriving from the port of Bari
Hey, pss! This might interest you.
The port of Bari, between cruise ships and ferries. Here's how to get to Puglia from the sea!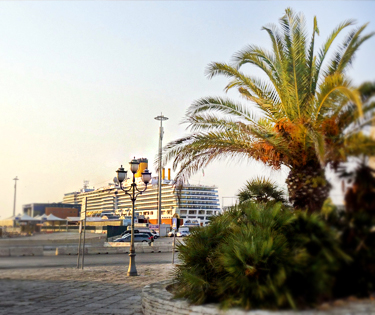 The port of Bari , as well as being one of the most important links between the Puglia and the Balkan Peninsula is also one of the main access points to the city of Bari , as well as one of the places most frequented by travelers and tourists to visit the city.
The port of Bari , a reference point for the large cruise ship and ferry companies , returned in 2019 among the 20 European airports with the highest number of cruise passengers (674,675 to be exact), a sign of a consolidated reality of national and international footprint.
If you are visiting this page it is because you will probably be interested in understanding in which area the port of Bari is located with respect to your Hotel / B & B , the downtown area or the your itinerary (you could also be the next cruise passenger , if so then it might be useful to find out what to see in Bari in 3 hours).
In any case, regardless of your role at this precise moment, surely some of the services proposed below will certainly be useful for planning your travels in this splendid city well in advance, capital of the wonderful Puglia .
Here is some useful information for your trip to Bari.
Cruise companies and ferries to Bari

Several cruise and ferry companies have passed and still pass through the port of Bari; among these we remember Italy MSC Cruises, Costa Cruises, Celebrity Cruises, TUI Cruises, Ventouris Ferries, Adria Ferries, Jadrolinija and several others.
Where is the Port of Bari located?
Useful information and advice
Do you already know where to stay in Bari ?
If not, don't be caught unprepared, look for Hotel / B&B now for your experience in Bari in Puglia!
Was this post helpful? You like?
Say it with a 1 to 5 heart
Average rating / 5. Voti ricevuti:
This post has not yet received a score! You can be the first