Car and scooter rental promotion
A ladder carved into the rock leads to a small paradise: Cala Copacabana, in Monopoli.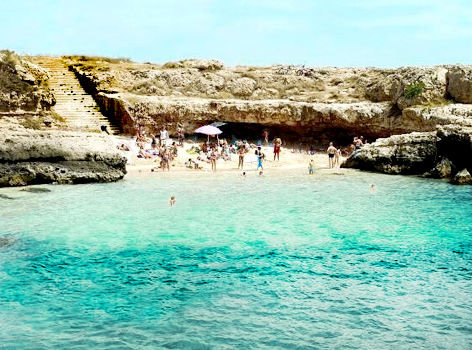 There are places where you don't need to spend money to admire its beauty.
Cala Copacabana is undoubtedly one of these: it is precisely one of the many and graceful coves of Monopoli (province of Bari ) where it is possible to access it thanks to a characteristic ladder, dug into the rock, to allow anyone to enjoy this little paradise and then pass a g iornata the sea away from the chaos typical of large beaches .
It is basically a piece of beach carved out and surrounded from the rock typical of the Apulian coast , bathed by a clear sea , almost crystalline , with a sandy bottom and not even very deep.
Another interesting detail is that this small free beach , being in the middle of an imposing cliff , allows you to stay more sheltered from any gusts of typical wind of the mistral .

So if the idea is to spend a day in a typical Apulian cove surely Cala Copacabana could be one of your preferences, after all this cove is not too far from Bari (about 30 minutes by car).


However, if you are lucky enough to find accommodation directly in Monopoli , you would probably reach it in less than 10 minutes ( Cala Copacabana is located exactly in southernmost area of ​​the splendid Monopoli ).

Where is this cove located?
Give yourself an emotion in the sea of ​​Puglia
Opportunities to fully enjoy your experience in Puglia! And if you have an unexpected problem, the cancellation is FREE .
Look for other beaches near Bari
What to see around Monopoli
Was this post helpful? You like?
Say it with a 1 to 5 heart
Valutazione media 5 / 5. Voti ricevuti: 1
Car and scooter rental promotion