Hey, pss! This might interest you.
Between boats and white houses, the suggestive cove of the fishermen of Polignano a Mare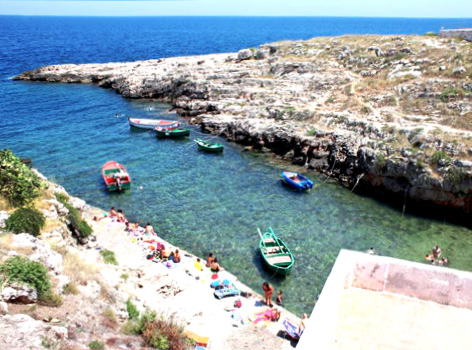 There are places in Polignano a Mare where time seems to have stood stopped, this is the case of this fantastic cove in the southernmost area of ​​the country.

It is a small but characteristic Apulian corner which still manages to preserve that typical atmosphere of a fishing town which adds to the color and transparency of the splendid sea of ​​ Pol ignorant . Obviously, it is not a beach with all the comforts, but a cove that deserves to be visited and, why not, even a dip in its splendid sea; in fact, despite the presence of the typical boats of the local fishermen, people do not give up taking a bath in the inviting waters of Cala Port 'Alga , so clear and clean.
Being very small, Cala Port 'Alga obviously does not have ample space to rest with towels and umbrellas, however, since it is not a beach in all respects, the turnout is not worthy of note. for which a place by the sea is quite easy to find. On the other hand, the great interest of travelers and tourists in immortalizing this cute landscape from above, with the fishermen's terraces overlooking the sea (which almost resembles the typical places of Greece) , should be highlighted. colorful boats on transparent water and the rock that frames this almost picturesque landscape.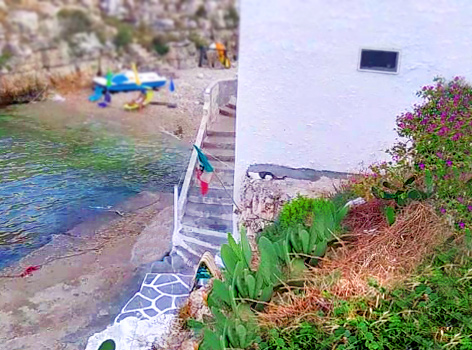 This suggestive glimpse of Polignano a Mare , therefore, could certainly be the ideal place to spend a few hours enjoying an almost surreal atmosphere, where sea, history and tradition come together in a mix of relaxation and good health given the unspoiled nature of the area.

Speaking of relaxation, there is another really curious aspect that you will inevitably find during your little one excursion in this splendid cove ; it is a bookcase made from a boat (you can find it in the next images by scrolling down this page) whose message reads "Get a book , leave a book " . An attraction located in the middle of the vegetation that characterizes this place and that you will most likely not fail to notice during your walk.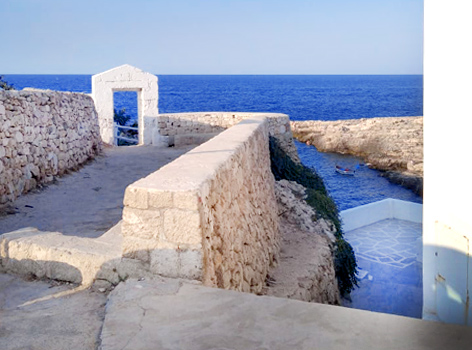 How to reach this cove? Fortunately there is a road that can be easily traveled by car and which leads to an area dedicated to car parking ; from this point you will find exactly in front of you two passages, the first is a white door (photo on the left) which allows you to enjoy a belvedere from above, while the second step is the one that will take you right inside the cove passing through the small terraces of the fishermen's houses.
During your journey you may also find some nice cats that frequent the area and that every day doze off on the surrounding walls (just like it also happens in Greece) , a small detail that will create even more enthusiasm for those who loves animals and nature.
Discover the hidden treasures of Polignano a Mare with a suggestive boat excursion and a tasty aperitif!
Where is Cala Port 'Alga located?
Give yourself an emotion in the sea of ​​Puglia
Opportunities to fully enjoy your experience in Puglia! And if you have an unexpected problem, the cancellation is FREE .
Other beaches reachable from Bari
Was this post helpful? You like?
Say it with a 1 to 5 heart
Valutazione media 4.5 / 5. Voti ricevuti: 2