#WeAreHere: Take a picture with our PDF and tag us on Facebook.
The best photos will be awarded!
For lovers of rocks, why not propose Mussels? A small town near Bari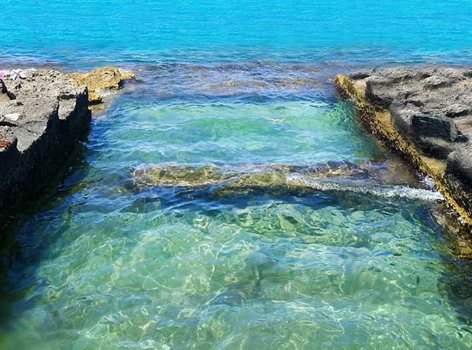 Who knows how many of you prefer rocks to sand , partly because you find the sand annoying, partly because you would probably like to avoid particularly crowded places with the risk of seeing your beach towel literally buried by sand .

Well, if your idea is to avoid all this, but above all you don't want to stray too far from Bari , Mussels is the place for you.
Mussels is a place not far from Bari which will allow you to enjoy not only an interesting cliff but above all an exceptional sea , clear and clean .
La scelta del posto in cui fermarvi per prendere un pò di sole e farvi un bel bagno è molto soggettiva (dipende sempre dai gusti di ognuno o dalle proprie esigenze), tuttavia un punto di riferimento interessante potrebbe essere un'area all'altezza di Las Palmas.
Cos'è Las Palmas? fondamentalmente si tratta di un tipico locale sul mare molto carino e riconoscibile grazie ad un grande chiosco bianco.
In questa zona del lungomare di Cozze avete la possibilità di mangiare, bere e anche accomodarvi all'ombra grazie ad alcuni tavoli con ombrelloni annessi messi a disposizione dal locale.

So if this place street is also convincing, then all you have to do is gather your friends and get there right away. Cozze is not very far from Bari , a reason that pushes several people from Bari (including myself) to go there to enjoy a few hours of relaxation without doing too much strada.
And if you want to taste focaccia too… know that there is an excellent focacceria nearby!
Are you still thinking about it? 😉
Give yourself an emotion in the sea of ​​Puglia
Opportunities to fully enjoy your experience in Puglia! And if you have an unexpected problem, the cancellation is FREE .
Look for other beaches near Bari
Other free beaches that may interest you
Was this post helpful? You like?
Say it with a 1 to 5 heart
Valutazione media 4.3 / 5. Voti ricevuti: 3