Hey, pss! This might interest you.
Locorotondo, the ancient white Apulian village nestled in the splendid Valle d'Itria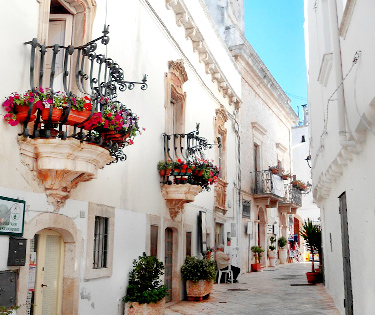 You should know that in the surroundings of Bari there is a village (among the many beautiful villages of the Bari province) that is as fascinating as it is evocative .
It is called Locorotondo , a town with a circular shape (hence the origins of its place-round name) whose position dominates the entire Valle d'Itria , another characteristic area of the Apulian territory where the popular Alberobello and Ostuni also originate.

Locorotondo is that typical country of the south , not surprisingly counted among the most beautiful villages in Italy , whose atmosphere is rich in history and tradition retains its authenticity over time, offering tourists a unique experience of its kind.
Among the main architectural features of the splendid Apulian village undoubtedly stand out the houses, most of them strictly with sloping roofs, renamed "cummerse" and which further emphasize the originality of Locorotondo .
Another characterizing aspect of Locorotondo is its circular plan that surrounds the historic center and its labyrinth full of alleys, arches, trattorias (where you can taste dishes and typical products with a > Apulian taste ) and, above all, the Palazzo Comunale . From this place, now used as Civic Library , it is possible to enjoy a viewpoint over the Valle d'Itria and the neighboring villages thanks to an interesting panoramic terrace .
In short, the beauty of a country like Locorotondo is really difficult to give up, and if between architecture, history and nature the ancient village gives emotions in the sunlight, it is easy to imagine the splendor that shines through in the light of lanterns ; Locorotondo in the evening is a spectacle to be enjoyed, especially during the Christmas period when Christmas decorations invade the streets of the historic center capturing the beware even of those who live in the immediate vicinity.
Locorotondo is a little far from Bari , but not so much as to exclude it among your Apulian stops (we are talking about an hour by car), after all, such a jewel absolutely deserves some of your precious time.
Don't worry, you won't regret it!
Beautiful tours for the villages of the Itria Valley
Opportunities to fully experience the beautiful villages of the Itria Valley! And if you have an unexpected problem, the cancellation is FREE .
Where is Locorotondo located?
Other places to see near Bari
Was this post helpful? You like?
Say it with a 1 to 5 heart
Valutazione media 4 / 5. Voti ricevuti: 1