Hey, pss! This might interest you.
Santo Spirito: the seafront, the marina and the maritime traditions of this pretty district of Bari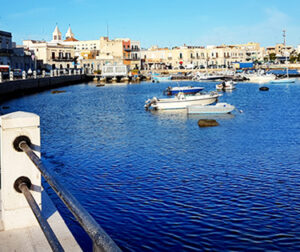 In the northern area of ​​ Bari there is a district , about 15 minutes from the Apulian capital , which enjoys a small - but not too much - seafront and a pretty marina full of boats as evidence of the numerous fishermen who reside in the area and who supply the market of fish , located right in a stretch of the coast of Santo Spirito .
Like Torre a mare (another district of Bari ) this area is also a an interesting destination for anyone who wants to walk by the sea and, at the same time, enjoy a drink in some place.
Yes, because like most of the Apulian towns also Santo Spirito is an area of ​​ Bari where there is certainly no shortage of bars, pubs, pizzerias and restaurants ready to satisfy your palates, perhaps integrating Apulian street food or typical dishes of the local tradition .
For several years now, Santo Spirito has also been capturing the attention of Italian and foreign tourists precisely by virtue of this very suggestive landscape where fishing is a must , and we understand this from the numerous boats present on the coast, those same boats that fishermen constantly use to offer the market and the restaurants of the area the catch of the day bringing, therefore, to the tables of the people of Bari always fresh and excellent quality products.
But it is above all in the evening that Santo Spirito brings out the best of if, with a promenade illuminated by the lights of the clubs and street lamps, and which together with the sound of the water create a relaxing and suggestive atmosphere.
For lovers of churches instead we point out the church of the "Holy Spirit" located in the central street of the district and characterized by two twin bell towers, visible in the distance even from the same seafront of Santo Spirito thanks to their grandeur with which they emerge from the inhabited center.
Bari tours you will love!
Opportunities to fully experience the city! And if you have an unexpected event, the cancellation is FREE .
Where is Santo Spirito located?
Search for Hotels and B & Bs, visit Santo Spirito
Other places to see near Bari
Was this post helpful? You like?
Say it with a 1 to 5 heart
Average rating / 5. Voti ricevuti:
This post has not yet received a score! You can be the first