Car and scooter rental promotion
Molfetta, its ancient origins, the splendid churches and the fishing port.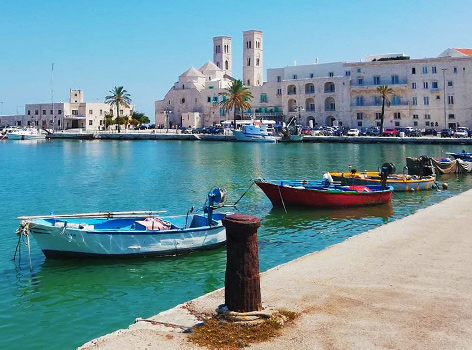 Molfetta is one of the largest cities in the province of Bari and which boasts a very important historical heritage given its very ancient origins.
Molfetta , in fact, seems to have been lived and inhabited already in the Neolithic period since various findings lead back to prehistoric settlements and encampments. Several peoples who have dominated this territory, including Normans, Swabians and Angevins, but it is in the Middle Ages that Molfetta begins to become a strategic and prestigious place for trade by sea, becoming one of the main references in Puglia for the Adriatic side.
It is no coincidence, in fact, that the Old Cathedral of the city (dedicated to San Corrado, as well as one of the greatest examples of Apulian Romanesque style) stands right next to the port of Molfetta with its two imposing bell towers that characterize the skyline.
Speaking of churches , for fans of the theme it is right to point out that there are several to visit in this city, such as the Basilica of the Madonna dei Martiri , the baroque cathedral of the Assumption , the church of Purgatory (just to name a few) and several others, as it deserves attention also a small and beautiful gothic style temple located in Piazza Garibladi and built in 1856: the Calvary .

Just a few words also for the historic center of Molfetta , a real peninsula of highly medieval and surrounded by an ancient and massive defensive wall interrupted only at the entrance of this characteristic historical center .

For the rest, the ancient village presents all the typical characteristics of a medieval village, with cute alleys, ancient churches and spaces dedicated to nightlife among local breweries, pubs and restaurants.
In short, even in the heart of Molfetta entertainment is certainly not lacking, the right compromise to live a pleasant and tasty experience within the walls of this inviting and elegant historic center , and not only in the ancient village .
Other places to see near Bari
Was this post helpful? You like?
Say it with a 1 to 5 heart
Valutazione media 5 / 5. Voti ricevuti: 2
Car and scooter rental promotion