Vivi un'esperienza vintage: regalati un Tour di Bari a bordo della magnifica Fiat 500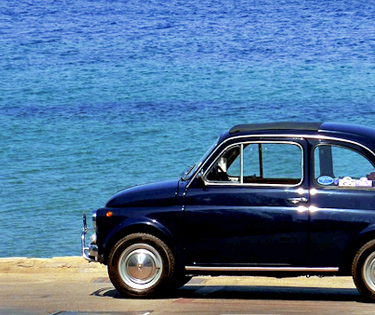 Ci sono mille modi per poter visitare una città come Bari: a piedi, a bordo di un trenino, in risciò, con un segway, oppure con una fantastica auto d'epoca come la Fiat 500.
Sicuramente per gli amanti del vintage, oppure per i nostalgici, l'idea di girare per Bari a bordo di un auto d'epoca non può che far sgranare gli occhi e approfondire questa opportunità.

Non capita certo tutti i giorni di guidare un auto di fabbrica e di stile tutto italiano e che ha segnato un'epoca, ma soprattutto di guidarla per visitare Bari.
Quella offerta da 500intour.it è un'idea interessante che vi farà viaggiare tra le strade più caratteristiche e suggestive di Bari alla scoperta dei luoghi storici, dei panorami più belli e delle Bari traditions.
Si, perchè i tour proposti prevedono, oltre agli itinerari tipici per scoprire gli angoli più belli e interessanti di Bari, anche delle soste per poter provare il gusto dello street food pugliese.

I tour proposti da 500intour.it possono essere standard oppure organizzati su misura in base alle vostre esigenze.
Per scoprire i pacchetti a disposizione, e prenotare un tour a bordo della Fiat 500, è consigliabile visitare il seguente link:
https://www.500intour.it/
The best-selling tours to see Bari
Opportunities to fully experience the city! And if you have an unexpected event, the cancellation is FREE .
Search for Hotels and B & Bs in Bari
Was this post helpful? You like?
Say it with a 1 to 5 heart
Average rating / 5. Votes received:
This post has not yet received a score! You can be the first