Vedere Bari divertendosi: scopri le vie della città con Tour guidati sui Segway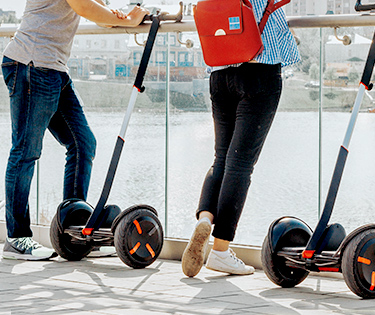 Cosa c'è di più pratico e divertente che girare tra le strade della città con un segway?
Senza nulla togliere a tante altre attività, di sicuro il noleggio di un Segway per visitare le principali attrazioni di Bari è senza dubbio uno dei metodi più alternativi per vedere la city con un pizzico di divertimento.
Questo mezzo, che come tutti i mezzi a due ruote bisogna saper utilizzare, o quanto meno avere un pochino di esperienza, può tornare davvero utile per tutti coloro i quali si accingono a visit Bari ma non hanno molto tempo a disposizione per farlo (per esempio i crocieristi che scendono al porto di Bari potrebbero essere molto interessati considerando le poche ore a disposizione per visitare la città).
Se poi a questo si aggiunge anche un tour guidato, allora si che l'esperienza diventa davvero interessante. Ed ecco quindi la possibilità di poter prenotare il noleggio del Segway con guida annessa.
Con questo simpatico servizio avrai la possibilità di visitare i luoghi, le piazze e gli angoli più belli e caratteristici di Bari, soprattutto del suo old village, e contestualmente di scoprire il gusto dello street food barese tra i vicoli di Bari Vecchia, come ad esempio la focaccia barese, i panzerotti e le sgagliozze.
Un'esperienza unica e irripetibile che non può passare inosservata e che ti consentirà di effettuare un rapido giro delle più belle attrazioni di Bari, come ad esempio il famoso seafront, the Castello Normanno Svevo, the Basilica of San Nicola e tantissimo altro.
The Tour ha una durata di circa 3 ore, e se l'idea di avere le ali sotto i piedi sta iniziando ad entusiasmarti allora non perdere altro tempo, prenota ora il Tour con il Segway e preparati per questa allegra esperienza.
Bene, ora sai per certo che anche Bari puoi visitarla con un bel Segway!
Altri fantastici Tour per vedere Bari
Search for Hotels and B & Bs in Bari
Was this post helpful? You like?
Say it with a 1 to 5 heart
Average rating / 5. Votes received:
This post has not yet received a score! You can be the first