Foto, fermate e degustazioni:
un trenino per vedere Bari e assaporare i prodotti tipici pugliesi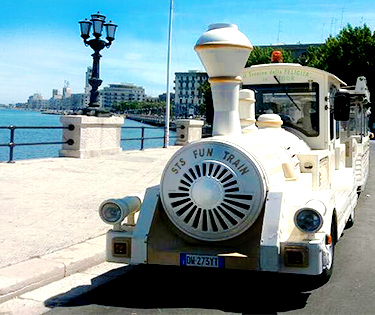 The trenino è quel mezzo che ti consente di girare nelle zone nevralgiche del Apulian capital per scoprire i principali luoghi storici e non solo.
Questi trenini infatti, molto gettonati soprattutto dalle famiglie, sono un modo simpatico e pratico per poter scoprire la Bari "verace" in tutte le sue forme: dalle piazze principali di Bari ai historical monuments, dai vicoli di Bari Vecchia al seafront della città.
Grazie a queste escursioni e visite guidate potrete non solo godere appieno di tutto quello che c'è da vedere a Bari, ma soprattutto di vivere la vostra esperienza a tutto tondo attraverso la degustazione di prodotti tipici baresi e pugliesi.


Una vera e propria avventura in quel di Bari che vi catapulterà nei luoghi e nelle tradizioni più antiche, passando dalle splendide e suggestive vie di Bari Vecchia alla famossissima Basilica of San Nicola, dal Castello Normanno Svevo alle vie dello shopping e della Movida.
Un percorso davvero stimolante e ideale, soprattutto per i cruise passengers che hanno solo 3 ore oppure mezza giornata per poter visit Bari e le sue principali attrazioni.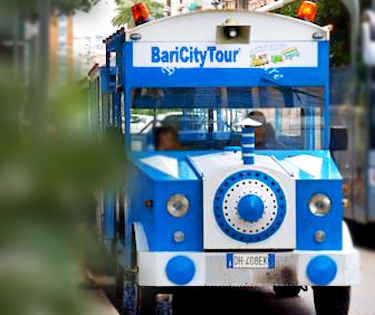 Una volta saliti a bordo del trenino troverete ad aspettarvi delle guide molto simpatiche e professionali che vi accompegneranno durante il vostro tour in città e che saranno il vostro principale punto di riferimento per domande e curiosità sui luoghi storici che visiterete.






Ad offrire questo interessante servizio turistico sono Il Trenino della Felicità and BariCity Tours. Per maggiori informazioni su come prenotare una visita guidata con il trenino è consigliabile visit i rispettivi siti web.
The best-selling tours to see Bari
Opportunities to fully experience the city! And if you have an unexpected event, the cancellation is FREE .
Search for Hotels and B & Bs in Bari
Was this post helpful? You like?
Say it with a 1 to 5 heart
Average rating / 5. Votes received:
This post has not yet received a score! You can be the first