A crunchy and spicy symbol of Bari cuisine: spaghetti all'assassina!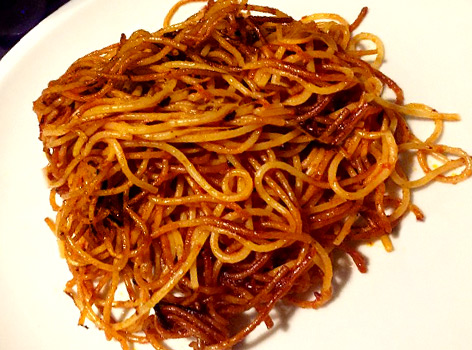 If you are a lover of spicy cuisine , then you will most likely be desperate for this delicious Bari dish!
Also the spaghetti all'Assassina are among the typical dishes offered by this splendid city, a dish whose characteristics represent a real flagship for various restaurants in Bari .
Their appearance is exactly like the one shown in the picture, that is slightly scorched , therefore crunchy , as well as particularly spicy ; the attribution of the term "assassin" , in fact, is inherited not only from the particularly spicy taste, but also from the technique adopted for cooking this dish, substantially characterized by the risotto of the pasta (made strictly with a black iron pan) , with a heart of tomato and chilli .
Come per tante ottime e gustose ricette, anche per gli spaghetti all'assassina proposti da Bari potreste trovare alcune sue varianti, tuttavia alla base ci sarà sempre il binomio "rosso" e vincente di questo piatto.

Sono diversi i ristoranti di Bari che continuano ad offrire la ricetta tramandata negli anni (si dice che sia nata nel cuore di Bari intorno agli anni '60) e molti di questi sono sparsi non solo nel centro della città ma anche in periferia. Dunque non vi resta che prendere appunti e pianificare, nella vostra esperienza barese, questa prova di forza con il gusto piccante della Puglia!
You may also be interested in ...
Other dishes and typical products of Bari
Was this post helpful? You like?
Say it with a 1 to 5 heart
Valutazione media / 5. Voti ricevuti:
This post has not yet received a score! You can be the first