Hey, pss! This might interest you.
Concediti una piacevole passeggiata sulla muraglia e goditi dall'alto il lungomare di Bari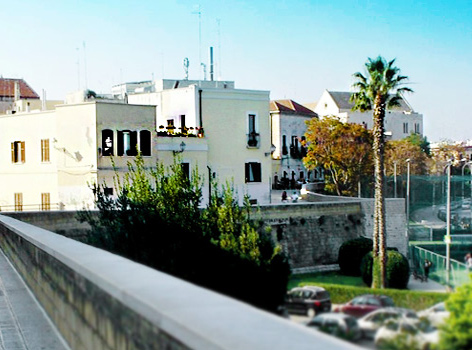 La muraglia di Bari Vecchia è un vero e proprio punto di forza del quartiere San Nicola, il quartiere del famoso borgo antico della città.
Farsi un giretto sulla muraglia permette non solo di percorrere tutta la zona perimetrale della città vecchia e di ammirarne la sua architettura, ma soprattutto consente di godere di un panorama esclusivo come il lungomare di Bari che, ricordiamo, è tra i più pelli ed i più lunghi d'Italia.
Una passeggiata sulla muraglia è l'occasione giusta per poter toccare con mano le origini della città di Bari oppure per godersi tramonti mozzafiato; se poi siete fortunati potreste vedere in lontananza il passaggio di pescatori che, con le loro barche, rendono ancora più suggestiva la vostra esperienza sulla muraglia del centro storico di Bari.


Il consiglio è quello di percorrerla partendo da Piazza Ferrarese, il fulcro del centro storico barese e della movida, nonchè principale punto di accesso a Bari Vecchia, fino all'ex monastero di Santa Scolastica, ossia l'attuale Museo archeologico.
Un percorso ideale per poter ammirare non solo la zona perimetrale del centro storico di Bari, ma anche tutto quello che da sempre lo caratterizza, la vista sulla Bari moderna ed il suo splendido lungomare (tra i più lunghi ed i più belli d'Italia).
Durante il tragitto troverete panchine sulle quali potrete rilassarvi (oppure potreste scegliere di appoggiarvi direttamente sul muretto) e qualora dovesse venirvi fame avrete l'imbarazzo della scelta; scendendo dalla muraglia, in direzione dei vicoli del centro storico, avete a disposizione bar, pub e ristoranti.
Dove si trova la muraglia di Bari vecchia?
The best-selling tours to see Bari
Opportunities to fully experience the city! And if you have an unexpected event, the cancellation is FREE .
Other ideas for your entertainment
Was this post helpful? You like?
Say it with a 1 to 5 heart
Average rating 5 / 5. Voti ricevuti: 1