Hey! Take advantage of the Booking offers to stay in Bari!
Mare, sole, relax e tramonti: tutto questo dalla spiaggia di Bari "Pane e Pomodoro"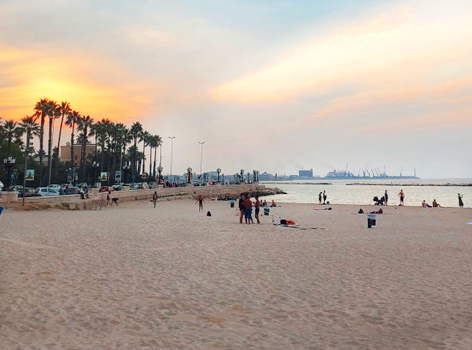 Pane e Pomodoro è la spiaggia della città di Bari, vicina al seafront e a due passi dal centro.
Si tratta di una spiaggia pubblica aperta a chiunque abbia voglia, di prendere un pò di sole o semplicemente darsi al totale relax.
Nella spiaggia di Pane e Pomodoro c'è tutto quello di cui una persona ha bisogno per il suo intrattenimento; ci sono mare, sabbia, scogli, giardini, piattaforme di legno, aree con ciottoli e ghiaia.
Inoltre ci sono anche i servizi, non mancano infatti il bar, i bagni, le docce, i bagnini e del personale di assistenza per i bagnanti. La cosa più interessante però è che tutto questo è a due passi dal centro della città di Bari.
Pane e Pomodoro si trova infatti alla fine del suo seafront, percorrendolo verso Sud, e gode di un bellissimo panorama in cui è possibile ammirare, in lontananza, il centro storico di Bari  il teatro Margherita, the Basilica of San Nicola, il campanile della cattedrale di San Sabino e infine anche il Porto di Bari con navi da crociera annesse.
Ma è quando cala il sole che da Pane e Pomodoro è possibile godersi lo spettacolo; i tramonti visti dalla spiaggia rientrano tra le perle preziose della propria esperienza a Bari, con le sfumature del cielo che fanno da cornice al seafront e alla old City.
Uno spettacolo imperdibile.
Dove si trova la spiaggia?
Cerca Hotel vicino la spiaggia di Bari
Other ideas for your entertainment
Was this post helpful? You like?
Say it with a 1 to 5 heart
Average rating / 5. Votes received:
This post has not yet received a score! You can be the first