#WeAreHere: Take a picture with our PDF and tag us on Facebook.
The best photos will be awarded!
Dove gustare ottimi aperitivi senza allontanarsi dal centro di Bari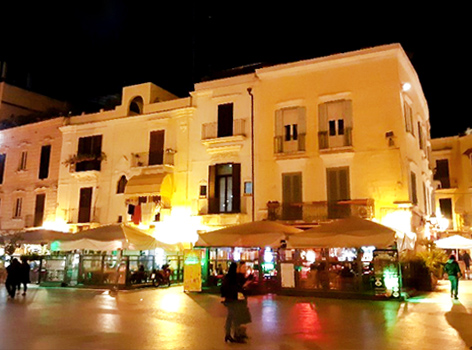 Può capitare la sera di voler stuzzicare qualcosa senza strafare, oppure di non avere il tempo di accomodarsi in un ristorante perchè a Bari ci sono tante cose belle da vedere e non volete sprecare altro tempo 😉
Sappiate che il blog è assolutamente d'accordo con voi, ma quando la fame chiama bisogna rispondere; ecco allora alcuni suggerimenti su dove fare un breve pit stop per ricaricare le batterie senza allontanarsi troppo magari dal old village.
Per esempio su Corso Vittorio Emanuele, esattamente lungo la strada che costeggia la old City, ci sono diversi locals, anche molto carini, dove è possibile mangiare un boccone e bere qualcosa senza spendere molto e soprattutto senza lunghi tempi di attesa.
Sul corso troverete dei lounge bar dove spesso, e soprattutto nei periodi più caldi, potrete stuzzicare qualcosina all'aperto, magari con della music di sottofondo;  in alternativa sappiate che altri locali in zona ospitano cantanti e musicisti per offrire ai clienti musica dal vivo o di intrattenimento per accompagnare un allegro momento con gli amici.
Ovviamente non c'è solo Corso Vittorio Emanuele ma anche vicoli di Bari Vecchia, piazze e strade adiacenti, se però volete restare nei paraggi e farvi anche una camminata questa strada vi darà soddisfazioni.
I locali di Corso Vittorio Emanuele
Altre idee su cosa fare a Bari
Was this post helpful? You like?
Say it with a 1 to 5 heart
Valutazione media 4.5 / 5. Voti ricevuti: 2