Hey, pss! This might interest you.
Goditi il mini tour in barca per ammirare tutta la bellezza di Bari.
A bordo un ricco aperitivo dal gusto tipico pugliese!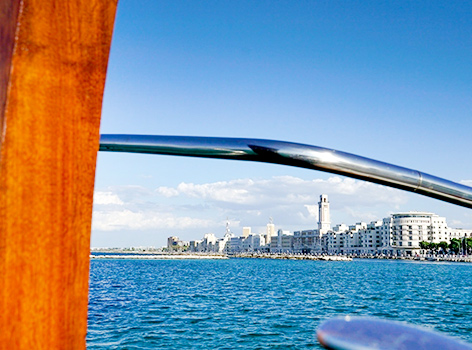 Se vuoi vivere Bari con un'esperienza diversa dal solito allora non potrai che prendere in considerazione questa opportunità.
Bari e la Puglia godono di un mare fantastico che rientra in assoluto tra i più belli e visitati al mondo; come non pensare di goderselo al meglio con un mini tour in barca? Se poi a questo ci aggiungiamo un ricco appetizer dal sapore tipico dei prodotti pugliesi, allora l'esperienza può diventare certamente unica e irripetibile. Perchè non valutarla?
Gi&Gi Puglia Cruise offre a turisti e baresi la possibilità di regalarsi una splendida gita in barca per ammirare Bari e tutti i suoi punti strategici direttamente dal suo meraviglioso mare con tanto di sosta bagno.
Nel frattempo due professionisti, uno skipper ed un cuoco, si prenderanno cura di voi, e mentre voi sarete al sole e in totale relax sull'elegante barca (10 mt di lunghezza) potrete godere di un panorama mozzafiato e contestualmente assaporare un autentico aperitivo dalla tradizione pugliese.
Se poi siete amanti dei prodotti tipici della Puglia o avete una sfrenata voglia di provarli, allora sappiate che l'aperitivo avrà anche le tradizionali bruschette, taralli pugliesi, mozzarelle and ricottine fresche, olive, Bari-style focaccia bread e anche del buon vino locale.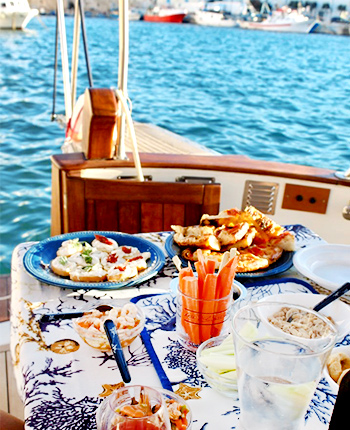 Oltre al Tour aperitivo ci sono altri  mini tour in barca con diversi itinerari che permettono non solo di see Bari ma anche le località limitrofe come la suggestiva Polignano a Mare, la splendida Monopoli, l'elegante Trani e tutti quei paesi sul mare, da nord a sud, della provincia barese.
Ma indipendentemente da quale sarà la vostra scelta una cosa è certa, l'esperienza che potreste vivere con questo originalissimo ed eccellente servizio vi regalerá emozioni uniche da poter raccontare a parenti e amici.
Impossibile non cogliere questa occasione arrivati a Bari, del resto una gita in barca in quel di Puglia è una delle attrazioni più ricercate in assoluto per vivere al meglio il territorio pugliese e scoprirne gli angoli più caratteristici. Una prospettiva assolutamente diversa, unica e particolarmente suggestiva per restare affascinati dalla bellezza e deliziati dal gusto tipico locale.
The Tour aperitivo offerto da Gi&Gi Puglia Cruise ha una durata di circa 3 ore ed è possibile prenotarlo per la mattina (09:30) oppure per il pomeriggio (16:30) fino al tramonto.
The barca può ospitare fino ad un massimo di 6 persone.
Cosa aspetti?
Starting point of the boat tour
Discover the hidden treasures of Polignano a Mare with a suggestive boat excursion and a tasty aperitif!
Other unusual experiences!
Opportunities to fully experience the city! And if you have an unexpected event, the cancellation is FREE .
Other experiences in Bari
Was this post helpful? You like?
Say it with a 1 to 5 heart
Average rating / 5. Voti ricevuti:
This post has not yet received a score! You can be the first