Hey! Take advantage of the Booking offers to stay in Bari!
Ammirare uno dei lungomari più lunghi d'Europa: i 5 migliori belvedere da non perdere assolutamente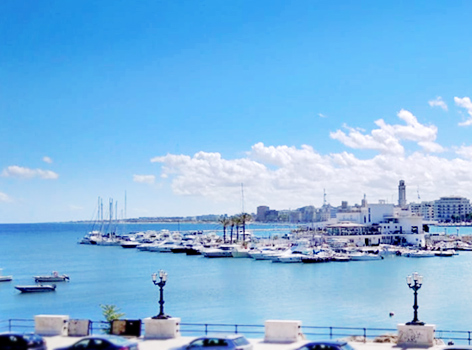 Quando arrivi a Bari the seafront è uno di quei luoghi che non potrai fare a meno di visitare.
Con la sua fitta schiera di lampioni (197 per l'esattezza) il seafront caratterizza la costa del capoluogo e diventa una delle maggiori attrazioni della splendida città Puglia.
Ma quello che in questo momento sicuramente vi starete chiedendo è se ci sono delle zone di Bari dalle quali è possibile ammirare questo meraviglioso paesaggio in tutta la sua interezza.
The answer is obviously yes, and when you discover these places it will be a long time before you decide to leave because the show that will present itself to your eyes will be worth your precious time.
Whether it is morning or evening, of course, it makes no difference, the charm of one of the longest and most beautiful promenades in Italy and Europe has the power to enchant anyone at any time of the day.
After this brief introduction let's move on to the substance, here are 4 points where you can have a breathtaking view of Bari and its splendid seafront.
Belvedere from Molo San Nicola
Belvedere from Largo Giannella
Belvedere from Fortino Sant'Antonio
Vicinanze Molo Sant'Antonio
Unusual tours to fully experience Bari
Opportunities to fully experience the city! And if you have an unexpected event, the cancellation is FREE .
Il punto migliore per scattare delle bellissime fotografie del lungomare
In questa pagina ne hai visti 5, ma qui troverai probabilmente il miglior punto per poter vedere, da nord a sud, l'intero lungomare di Bari! Che aspetti? Guarda subito questo articolo!
Other experiences in Bari
Was this post helpful? You like?
Say it with a 1 to 5 heart
Average rating 4 / 5. Votes received: 4