Hey, pss! This might interest you.
La più grande area verde di Bari dove respirare aria pura, rilassarsi e godersi la natura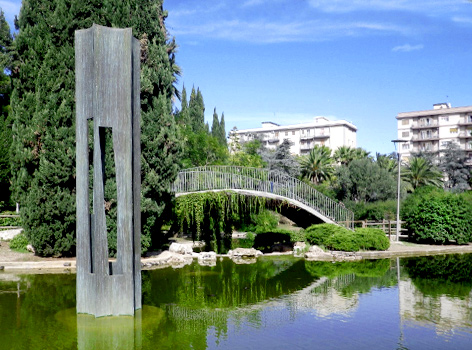 Il Parco 2 Giugno è il più grande parco della città di Bari.
Dal 1987, anno della sua nascita, è diventato un punto di intrattenimento e di ritrovo per tanti giovani, anziani e famiglie.
Il parco 2 Giugno non è solo un luogo di relax ma anche un momento per entrare in contatto con la natura grazie alla presenza di papere, tartarughe marine e pesci, dove? in un laghetto situato nel bel mezzo del parco (principale attrazione del parco stesso).
Oltre a questo c'è anche la possibilità di poter usufruire di un piccolo campo da Basket per gli amanti di questo sport, oppure di giocare a bocce grazie alle piste ad hoc realizzate nella zona perimetrale del grande parco.
Nel parco troverai spesso gente sportiva impegnata a fare jogging o semplicemente in bicicletta vista la mole di strade e vicoli che circondano i grandi spazi verdi.
Dunque il Parco 2 Giugno è indubbiamente un ottimo luogo per poter trovare un pò di pace, salvo trovarsi nel giorno in cui magari è previsto qualche evento; il parco infatti è spesso anche luogo di aggregazione di eventi e iniziative per grandi e piccini proprio in virtù dell'ampio spazio e delle frequenti giornate di sole tipiche della città di Bari.

Quando verrai a Bari non sarebbe una cattiva idea fermarti in quest'area per riposare i muscoli, la mente e respirare un pò di aria pura.
E se hai voglia di un caffè oppure di un aperitivo non preoccuparti perchè all'interno del parco 2 giugno è presente anche un Bar con servizi igienici annessi.
Unusual tours to fully experience Bari
Opportunities to fully experience the city! And if you have an unexpected event, the cancellation is FREE .
Dove si trova il Parco 2 Giugno?
Cerca Hotel e B&B vicino il Parco di Bari
Other ideas for your entertainment
Was this post helpful? You like?
Say it with a 1 to 5 heart
Average rating 5 / 5. Voti ricevuti: 1