Hey, pss! This might interest you.
Visit a sacred place in the city of Bari: the Basilica of San Nicola, in the heart of Bari Vecchia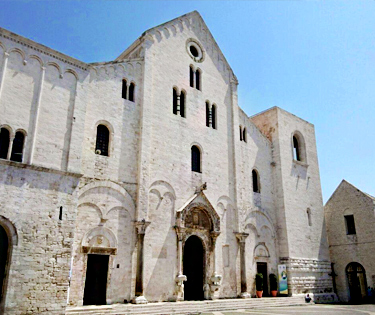 Probabilmente una delle prime cose da visitare a Bari è proprio la Basilica.
Costruita e consacrata nel 1197, la Basilica di San Nicola è uno dei principali simboli della città di Bari e rientra tra i monumenti più antichi ed espressivi dello stile romanico pugliese.
La Basilica, dedicata appunto al santo San Nicola (santo patrono della città di Bari) ospita le sue reliquie nella cripta, esattamente sotto l'altare centrale rivestito da mosaici pavimentali dai materiali pregiati.
L'imponenza della struttura permette alla Basilica di essere visibile anche da lunga distanza, per esempio del lungomare di Bari o passeggiando sulla muraglia che costeggia il quartiere più antico della città.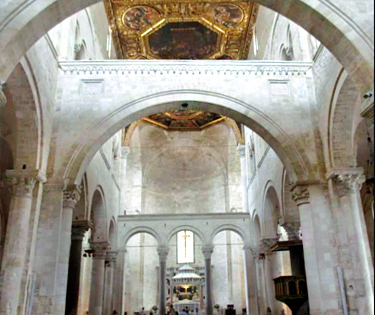 Se siete interessati a vivere più da vicino la secolare storia della Basilica e siete curiosi di guardare oggetti e reperti storici, potete recarvi al Museo Nicolaiano proprio nei pressi della Basilica; al suo interno potrete ammirare diversi dipinti, pergamene, calici e documenti di valore storico che hanno caratterizzato le vicende di San Nicola e dalla sua Basilica.
La Basilica di San Nicola è situata nel borgo antico di Bari, la città vecchia (detta anche Bari vecchia) zona che ha visto la rinascita negli anni '90 con interventi di ristrutturazione importanti e che adesso è diventata meta fissa per i tanti turisti (tra questi anche tanti crocieristi vista la vicinanza con il porto) che affollano quotidianamente Bari e il suo centro storico.
Volete un approfondimento sulla storia della Basilica?
Ecco alcuni link utili suggeriti dal blog:
Sito della Basilica
www.basilicasannicola.it
Sito del Museo Nicolaiano
www.museonicolaiano.it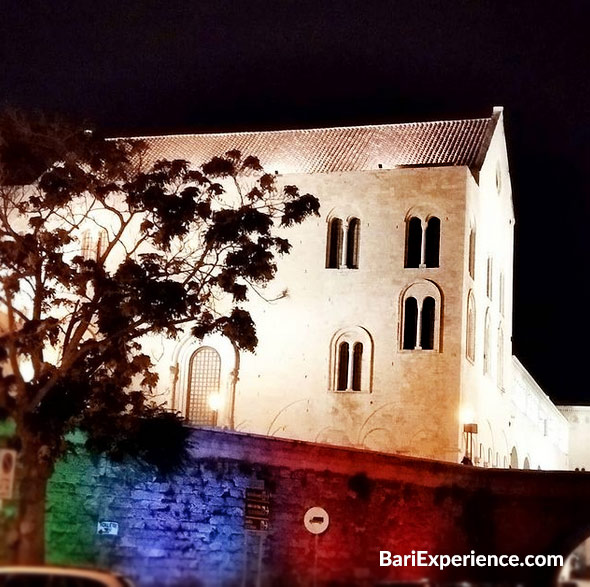 Where is the Basilica of San Nicola located?
Guarda le immagini della Basilica il 6 Dicembre, giorno di San Nicola.
Ho scritto un post in MyBariExperience dove parlo della mia esperienza alla Basilica di San Nicola nel periodo natalizio. Guarda le immagini
The best-selling tours to see Bari
Opportunities to fully experience the city with the tours offered by Civitatis! And if you have an unexpected problem, the cancellation is FREE .
Other things to see in Bari
Was this post helpful? You like?
Say it with a 1 to 5 heart
Average rating 5 / 5. Voti ricevuti: 1