Hey! Take advantage of the Booking offers to stay in Bari!
Visit a sacred place in the city of Bari: the Basilica of San Nicola, in the heart of Bari Vecchia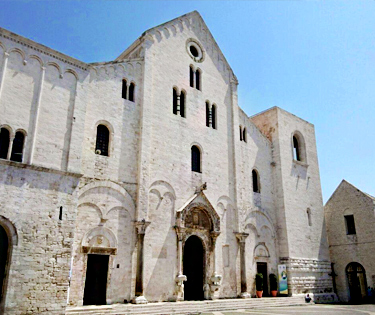 Probably one of the first things to visit in Bari is the Basilica itself.
Built and consecrated in 1197, the Basilica of San Nicola is one of the main symbols of the city of Bari and falls within the monuments more ancient and expressive of the Apulian Romanesque style.
The Basilica, dedicated precisely to the saint San Nicola (patron saint of the city of Bari) houses his relics in the crypt, exactly under the central altar covered with floor mosaics from precious materials.
The imposing structure allows the Basilica to be visible even from a long distance, for example of the seafront of Bari or walking on the wall that runs along the oldest part of the city.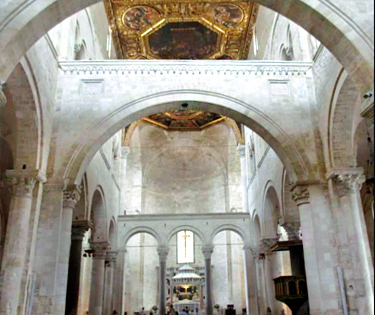 If you are interested in experiencing the secular history of the Basilica more closely and are curious to look at objects and historical finds, you can go to Nicolaiano Museum right near the Basilica; inside you can admire several paintings, parchments, chalices and documents of historical value that characterized the events of San Nicola and its Basilica.
The Basilica of San Nicola is located in the old village Bari, the old city (also called Bari old) area that saw the rebirth in the 90s with major renovations and which has now become a fixed destination for many tourists (among them also many cruisers given the proximity to the port) that crowd daily Bari and its historic center.
Do you want a deepening on the history of the Basilica?
Here are some useful links suggested by the blog:
Basilica site
www.basilicasannicola.it
Site of the Nicolaiano Museum
www.museonicolaiano.it
Where is the Basilica of San Nicola located?
Look at the images of the Basilica on December 6th, St. Nicholas day.
I wrote a post in MyBariExperience where I talk about my experience at the Basilica of San Nicola during the Christmas period. Look at the pictures
The best-selling tours to see Bari
Opportunities to fully experience the city with the tours offered by Civitatis! And if you have an unexpected problem, the cancellation is FREE .
Other things to see in Bari
Was this post helpful? You like?
Say it with a 1 to 5 heart
Average rating 5 / 5. Votes received: 1