Hey! Take advantage of the Booking offers to stay in Bari!
Il castello isolato sulla collina: il misterioso Castel del Monte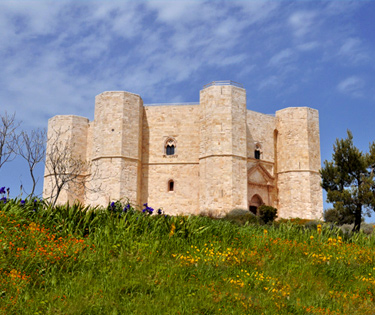 Tra le tante attrazioni da vedere in Puglia c'è con certezza anche una meravigliosa costruzione medievale fondata da Federico || di Svevia, ossia Castel del Monte.
Questo castle, situato su una collina (a 540 metri di altezza) nella zona di Andria, è uno dei principali simboli del territorio pugliese, divenuto nel tempo anche motivo di orgoglio nazionale data la scelta di inserire, nel 1998, la sagoma di Castel del Monte sulla moneta da 1 centesimo di euro.
La sua architettura inusuale e affascinante (a pianta ottagonale) e la collocazione in altura hanno  aperto nel tempo diversi dibattiti sulla finalità del castle stesso che, ad oggi, pare sia ancora oggetto di diversi studi e ricerche.
Le caratteristiche strutturali di Castel del Monte hanno attirato l'attenzione anche dell'UNESCO il quale ha provveduto a far rientrare questa costruzione storica nella lista dei Patrimoni dell'umanità alimentando così l'interesse di tanti curiosi e turisti che ogni anno decidono di visitare il castello della regione pugliese.
Questo eccezionale monumento e la sua collocazione vi consentiranno non solo di scoprire un luogo affascinante, ma anche di godere di un panorama mozzafiato data la posizione sopraelevata. Tutti questi, e non solo, sono alcuni dei buoni motivi per non rinunciare a vivere un'esperienza in Puglia.
Se ti sei incuriosito ti invito ad approfondire la history di Castel del Monte, gli orari di apertura e le tariffe d'ingresso per visitarlo.
Dove si trova Castel del Monte
Cerca Hotel economici e visita Castel del Monte
Other places to see near Bari
Was this post helpful? You like?
Say it with a 1 to 5 heart
Average rating / 5. Votes received:
This post has not yet received a score! You can be the first