Hey! Take advantage of the Booking offers to stay in Bari!
La finestra sul mare e sulla Valle d'Itria: l'incantevole città bianca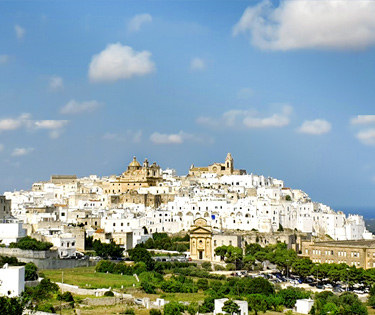 Ostuni è quel posto che non potrete fare  meno di notare mentre percorrete la SS16 in direzione Brindisi.
Denominata "la città bianca" in virtù della  sua schiera di palazzine bianche visibile anche in lontananza, Ostuni è un luogo dal borgo antico di stile Medievale tutto da scoprire e da vivere.
Immersa nel verde, tra uliveti e vigneti tipici della Valle d'Itria e a più di 200 metri di altezza, questa città vanta di un Old Town molto caratteristico dove il tempo sembra essersi fermato.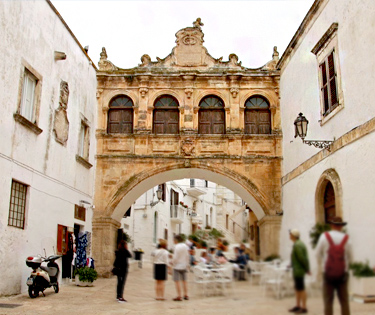 Passeggiando tra le vie di Ostuni infatti vi accorgerete delle diverse piazzette e dei tanti vicoli, ricchi di botteghe artigiane e piccoli ristoranti, che renderanno ancora più suggestiva la vostra esperienza nella città bianca.
Da segnalare inoltre anche l'antichissima cinta muraria che circonda Ostuni e dalla quale è necessario passare per accedere al paese.
Una volta arrivati a Ostuni sappiate che ci sono zone dove è possibile ammirare dall'alto il paesaggio circostante, compreso il mare adriatico; che dirvi, semplicemente un'esperienza mozzafiato.
Il periodo ideale per andarla a visitare? non esiste 😉 o meglio, indubbiamente i periodi più caldi sono quelli ideali, ma non escludete di visitarla anche in autunno e in inverno, perchè Ostuni è bella sempre, soprattutto al calare del sole quando la città si illumina.
Ostuni è dunque una cartolina della vostra esperienza in Puglia da conservare gelosamente.
Dove si trova Ostuni, la città bianca
Cerca Hotel, B&B e masserie a Ostuni
Other places to see near Bari
Was this post helpful? You like?
Say it with a 1 to 5 heart
Average rating / 5. Votes received:
This post has not yet received a score! You can be the first