Hey! Take advantage of the Booking offers to stay in Bari!
Santo Spirito: il lungomare, il porticciolo e le tradizioni marinare di questo grazioso quartiere di Bari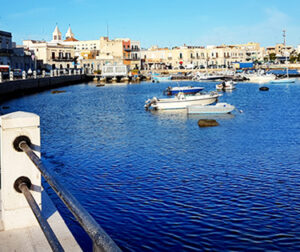 Nella zona nord di Bari c'è un Neighborhood, a 15 minuti circa dal Apulian capital, che gode di un piccolo – ma non troppo – seafront e di un grazioso marina ricco di imbarcazioni a testimonianza dei numerosi pescatori che risiedono nella zona e che ogni giorno riforniscono il mercato del pesce, situato proprio in un tratto della costa di Santo Spirito.
Come Torre a mare (altro quartiere di Bari) anche questa zona è una meta interessante per chiunque abbia voglia di passeggiare sul mare e, contestualmente, gustarsi un drink in qualche locale.
Si, perchè come la gran parte delle località pugliesi anche Santo Spirito è una zona di Bari dove non mancano di certo bar, pub, pizzerie e ristoranti pronti a soddisfare i vostri palati, integrando magari uno street food pugliese oppure i piatti tipici della tradizione locale.
Da diversi anni a questa parte anche Santo Spirito sta catturando l'attenzione di turisti italiani e stranieri proprio in virtù di questo paesaggio molto suggestivo dove l'attività della pesca è un must, e lo si capisce dalle numerose barche presenti sul litorale, quelle stesse barche che i pescatori utilizzano costantemente per offrire al mercato e ai i ristoranti della zona il pescato del giorno portando, quindi, sulle tavole dei baresi prodotti sempre freschi e di ottima qualità.
Ma è soprattutto la sera che Santo Spirito tira fuori il meglio di se, con un lungomare illuminato dalle luci dei locali e dei lampioni, e che insieme al suono dell'acqua regalano un'atmosfera rilassante e suggestiva.
Per gli amanti delle chiese invece si segnala la chiesa dello "Spirito Santo" situata nella via centrale del quartiere e caratterizzata da due torri campanarie gemelle, visibili in lontananza anche dallo stesso lungomare di Santo Spirito grazie alla lora imponenza con la quale emergono dal centro abitato.
Tour di Bari che ti piaceranno!
Opportunities to fully experience the city! And if you have an unexpected event, the cancellation is FREE .
Dove si trova Santo Spirito?
Cerca Hotel e B&B, visita Santo Spirito
Other places to see near Bari
Was this post helpful? You like?
Say it with a 1 to 5 heart
Average rating / 5. Votes received:
This post has not yet received a score! You can be the first