Hey! Take advantage of the Booking offers to stay in Bari!
Polignano a Mare: the enchanting corner of Puglia 20 minutes from Bari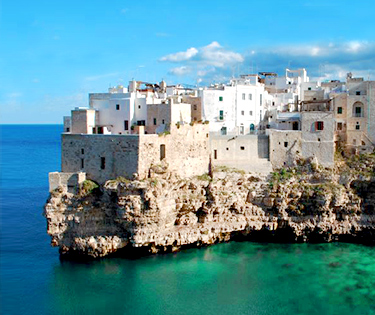 Poligano a Mare is a must, in the sense that when you come to Puglia , especially in Bari , you absolutely cannot miss it because of its proximity with the Apulian capital .
Poligano a Mare è una vera e propria perla della Puglia che rimane impressa ogni anno a migliaia di turisti che la visitano per la prima volta; a renderla caratteristica non è solo il paesaggio mozzafiato ma anche il suo Old Town, tra i luoghi simbolo della massima espressione Puglia.
The village is built on the rock overlooking the sea and with the beautiful sunny days, typical of Puglia, Polignano a Mare shines through its colors: those of the sea, blue and green that merge making the seabed distinguishable, and those of the beautiful as characteristic stone houses and white walls that stand out on the cliff.
Il centro storico di Polignano a Mare è molto suggestivo ed è praticamente ogni giorno e in ogni periodo dell'anno pieno di gente, in particolar modo di turisti e viaggiatori che passeggiano lungo le vie e le piazze del suggestivo borgo antico.
The many locals in the various streets of the center know this well; during your walks there will be many commercial activities that you will cross, as well as many pubs and restaurants that will prepare for you typical recipes of Apulian cuisine b >.
Insomma, Polignano a Mare è quel posto unico, raro e prezioso che non potete assolutamente perdervi quando decidete di visitare Bari e i suoi dintorni.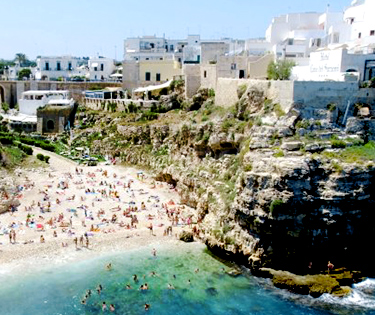 If you are staying in Bari the advice is to rent a car to be free to reach the village at any time of the day (the distance from Bari is about 20-25 minutes).
During your journey, do not exclude the possibility of stopping at San Vito , another characteristic town in the area that you will find just before arriving in Polignano a Mare.
Se invece non avete un auto a disposizione ma vi spostate solo con i  mezzi pubblici, sappiate che questo paese è raggiungibile anche da treni regionali and bus.
Dunque non avete davvero scuse per rinunciare a visitare Polignano a Mare 😉 
Alcune foto di Polignano a Mare, Puglia
Discover the hidden treasures of Polignano a Mare with a suggestive boat excursion and a tasty aperitif!
Discover the wonderful streets of the historic center of Polignano a Mare and enjoy the breathtaking views of Puglia !
Polignano a Mare is near Bari
Cerca Hotel e B&B a Polignano a Mare
Other places to see near Bari
Was this post helpful? You like?
Say it with a 1 to 5 heart
Average rating 5 / 5. Votes received: 1