Hey! Take advantage of the Booking offers to stay in Bari!
Mare, monumenti e locali: il fascino della città di Trani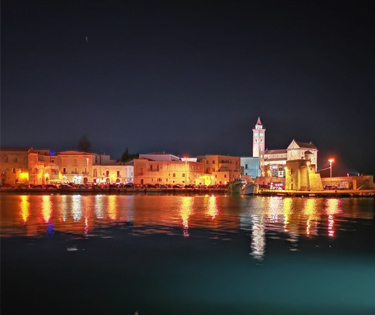 Percorrendo la tangenziale di Bari, in direzione Foggia (quindi verso Nord), si trovano diversi paesi, tra questi anche Trani.
Trani è un'altra città di mare caratterizzata da un carinissimo seafront, ricco di attività commerciali, e soprattutto da due monumenti caratteristici: la cattedrale romanica e il Swabian Castle of Bari.
La cattedrale romanica è uno dei monumenti simbolici non solo della città ma anche della Puglia e con il suo campanile (alto quasi 60 metri) domina e caratterizza il seafront di Trani.
Un'altra attrazione molto interessante è certamente anche il castello Svevo, commissionato da Federico || di Svevia nel lontanissimo 1233 per difendere il porto.
Non solo storia ma anche nightlife; Trani infatti è molto frequentata non solo per i suoi palazzi e monumenti storici ma anche per i tantissimi locals presenti sul territorio.
Molti infatti sono i baresi che, soprattutto nel weekend, tendono a spostarsi in massa verso il centro storico di Trani, da sempre molto accogliente quanto pieno di vita.
Quando splende il sole, cosa abbastanza frequente in Puglia, il paesaggio di questa città regala un panorama mozzafiato, tuttavia è anche con l'imbrunire che Trani sprigiona tutta la sua bellezza, per cui il consiglio è quello di passare a Trani una mezza giornata (magari dal pomeriggio a sera) se volete godere appieno questa esperienza "fuori porta".
Trani si trova a circa 30 minuti da Bari (in auto), non è vicinissima ma nemmeno impossibile da raggiungere, grazie anche ai mezzi pubblici che collegano facilmente il Apulian capital con questa città. Da vedere!
Per treni regionali da Bari centrale a Trani visita il sito di Trenitalia
Trani è vicino Bari
Fantastici Tour per scoprire Trani
Opportunities to fully experience the city! And if you have an unexpected event, the cancellation is FREE .
Other places to see near Bari
Was this post helpful? You like?
Say it with a 1 to 5 heart
Average rating / 5. Votes received:
This post has not yet received a score! You can be the first