Hey! Take advantage of the Booking offers to stay in Bari!
Monopoli: la località imperdibile tra spiagge, mare e movida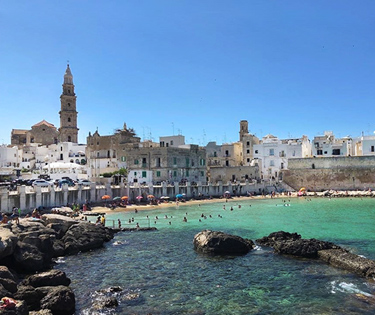 Intorno a Bari, il capoluogo della Puglia, ci sono tanti comuni interessanti e tra questi spicca indubbiamente anche Monopoli. 
Monopoli si trova più a sud, precisamente dopo Polignano a Mare, e anch'essa è una bellissima cittadina che si affaccia sul mare Adriatico.
Monopoli, come tanti altri comuni nei surroundings of Bari, possiede un caratteristico e frequentatissimo centro storico che da diversi anni a questa parte è diventato una delle mete preferite dai viaggiatori, soprattutto per gli stranieri.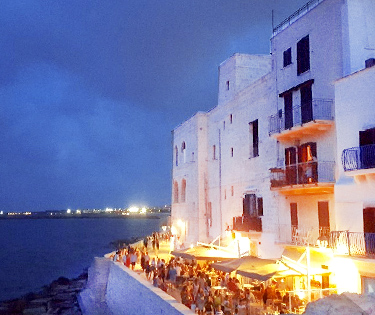 The zona più antica della cittadina si distingue per le sue case bianche, i numerosi quanto suggestivi vicoli, chiese, palazzi d'epoca e un castello, che rievocano il percorso storico di Monopoli e le sue tradizioni.
A proposito di tradizioni è consigliabile visitare l'antico porto della città, uno dei più antichi porti della costa pugliese; attivo da secoli continua a restare luogo simbolo ed espressione di una comunità fatta di marinai e commercianti.
Al vecchio porto, situato appunto nel centro storico, si accede passando attraverso un caratteristico arco che vi porterà alla scoperta di una piccola e storica meraviglia ricca, ancora oggi, di tante piccole barche colorate appartenenti ai pescatori locali.
Monopoli è famosa anche per le sue spiagge and calette; in zona infatti ci sono diversi punti dove potersi dedicare da una giornata di mare grazie ai diversi punti di accesso e ai tanti lidi presenti, alcuni di questi anche molto caratteristici sia per la loro posizione che per i servizi offerti.
Se poi volete sapere cosa poter fare la sera, Monopoli ha davvero tutto quello che vi serve. Sia nel centro storico che nelle zone limitrofe questa cittadina vanta di una mole di locali non indifferente; dal pub, al lounge bar, dalla pizzeria al ristorante fino a locals con della buona musica per la nightlife.
Dunque Monopoli è uno di quei posti indubbiamente interessanti sia dal punto di vista storico che dell'intrattenimento. Da Bari dista circa 30 minuti in auto, ma anche in questo caso, qualora non ci sia la possibilità di essere autonomi, potreste usufruire dei servizi pubblici.
Alcune foto di Monopoli, Puglia
Guarda questi Tour tra Monopoli e dintorni!
Opportunities to fully experience the city! And if you have an unexpected event, the cancellation is FREE .
Prenota un Hotel economico a Monopoli
Other places to see near Bari
Was this post helpful? You like?
Say it with a 1 to 5 heart
Average rating / 5. Votes received:
This post has not yet received a score! You can be the first