The unmissable stop in Puglia: Alberobello and its Trulli famous all over the world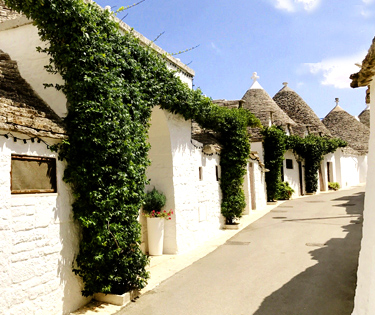 Alberobello is that characteristic and romantic place to visit at least once in a lifetime.
The trulli of Alberobello , unique in the world and recognized by UNESCO as heritage of humanity by virtue of a unique architectural structure of their kind, are beautiful limestone buildings rooms characterized by a chromatic contrast that sees a white at their base and a dark gray on the pyramid-shaped roofs.
These structures, used for housing and small commercial activities, are all gathered mainly in the center of Alberobello , but there are several scattered along the surrounding area (you will notice this along some roads that lead to the town ).
The pure white of the trulli of Alberobello stands out in the green of the typical Apulian olive trees offering a truly beautiful, genuine and at times even romantic landscape.
Although Alberobello is a very small town in the province of Bari , it still has a lot to offer both historically and culturally, not by chance its uniqueness makes it one of the favorite destinations of many tourists.

La magia di Alberobello si sprigiona anche con l'avanzare della sera, quando nelle strade del centro storico iniziano ad accendersi i lampioni che illuminano gli ingressi e le facciate dei trulli mentre tra le strade si inizia a percepire l'odore delle tipiche pietanze pugliesi.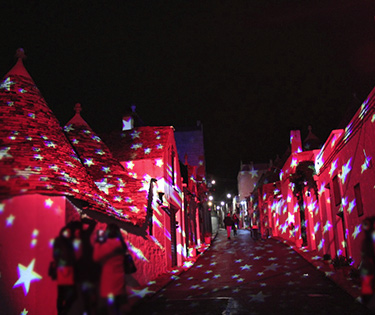 But the real glance comes especially during the Christmas period; Alberobello in fact becomes more and more protagonist of the territory thanks to the "Christmas Lights" event. These are colored lights with Christmas textures projected onto the trulli and which transform the center into a magical, colorful and particularly suggestive place.
In short, Alberobello is that unmissable destination that deserves to be lived to the end; summer or winter makes no difference, the beauty of this country has no ideal periods, it only has a lot to discover.
Where are the Trulli of Alberobello
Una visita guidata privata ad Alberobello per scoprire le origini dei Trulli e degustare alcuni sapori tipici della Puglia!
Other places to see near Bari
Was this post helpful? You like?
Say it with a 1 to 5 heart
Valutazione media 4 / 5. Voti ricevuti: 4