Il sapore della tradizione: le sgagliozze baresi tra i vicoli della città vecchia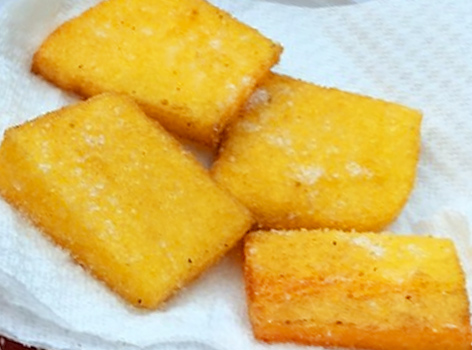 Quella delle sgagliozze è un'antica tradizione di strada nata tra i vicoli del old village.
Si tratta di polenta tagliata a fette quadrate e fritta in olio di oliva, servita normalmente (dopo una spolverata di sale fino) come antipasto oppure venduta in strada, soprattutto nelle vie della città vecchia.

Le signore del quartiere più antico di Bari infatti ancora oggi preparano e friggono le sgagliozze fuori dalle loro abitazioni davanti a baresi e turisti servendosi di imponenti pentoloni tramandati di madre in figlia.
Inutile dirvi come l'odore delle sgagliozze attiri subito l'attenzione di chi passeggia tra i vicoli del centro storico; che sia estate o inverno non fa differenza, le massaie sono sempre li a prepararle per voi.
Anche queste, come la focaccia, rientrano tra i prodotti tipici dello street food barese.
Discover Bari's pasta and street food!
Opportunities to fully experience the city! And if you have an unexpected event, the cancellation is FREE .
Other dishes and typical products of Bari
Was this post helpful? You like?
Say it with a 1 to 5 heart
Average rating / 5. Votes received:
This post has not yet received a score! You can be the first