Hey, pss! This might interest you.
La passeggiata sul lungomare di Bari, tra i più belli d'Italia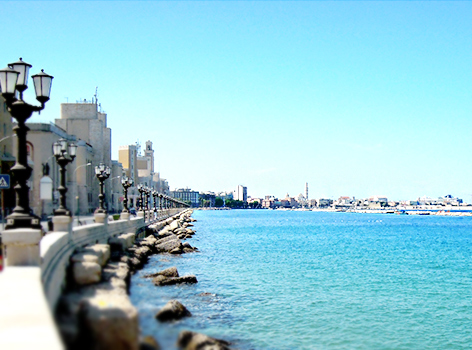 Il lungomare di Bari, oltre ad essere uno dei luoghi più caratteristici in assoluto della città, è anche considerato tra i più belli d'Italia e tra i più lunghi d'Europa.
Basterebbe solo questo per convincerti a farti una bella e piacevole camminata lungo la costa di Bari.
Il lungomare, composto da una fitta schiera di lampioni che da sempre lo caratterizzano, è frequentato non solo dai baresi ma anche dai tanti turisti che hanno voglia di respirare aria di mare e immortalare il bellissimo panorama che solo un lungomare come quello di Bari può regalare.
La passeggiata sul mare è un must, ma qualora ci si senta un pò stanchi è possibile riposarsi grazie alle numerose panchine in legno collocate lungo tutto il lungomare.
Non mancano gli sportivi, infatti può capitare durante una passeggiata di incrociare qualche barese (e non solo) con tanto di cuffie e lettore musicale mentre fa jogging oppure di incontrare qualche appassionato pescatore in compagnia della sua canna da pesca.

Dunque sul lungomare di Bari non sarai mai solo, soprattutto se si considera che il tragitto è potenzialmente lungo: per esempio partendo dal porto nuovo e andando verso sud passerai davanti alla muraglia di Bari Vecchia, al Teatro Margherita, al porto vecchio (molo San Nicola) per poi proseguire ancora e concludere il percorso alla famosa spiaggia Pane e Pomodoro.
Tempo stimato? beh, considerando qualche selfie e un pò di relax sulle panchine potrebbero volerci anche 50 minuti per percorrerlo tutto.
Insomma ne hai di strada da fare! 🙂
Il percorso del lungomare di Bari
Cerca Hotel e B&B vicino il lungomare di Bari
Unusual tours to fully experience Bari
Opportunities to fully experience the city! And if you have an unexpected event, the cancellation is FREE .
Other ideas for your entertainment
Was this post helpful? You like?
Say it with a 1 to 5 heart
Average rating / 5. Voti ricevuti:
This post has not yet received a score! You can be the first