Hey! Take advantage of the Booking offers to stay in Bari!
La chiusura del pranzo e della cena con lo sporcamuss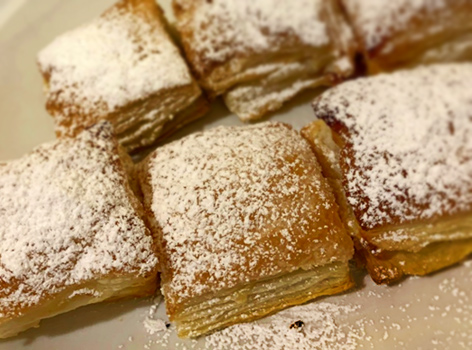 Gli "sporcamuss", che in dialetto barese sta per "sporca musi", sono quei dolci ai quali è impossibile dire di no.
Si tratta di semplicissima pasta sfoglia riempita di crema e spolverata con dello zucchero a velo; tanto semplici quanto buonissimi e normalmente vengono tirati fuori alla fine di un pranzo o di una cena.
to Bari sono ormai una tradizione, e sono tantissimi i ristoranti che ve li proporranno nel proprio menu.
La massima apoteosi però viene raggiunta quando questi dolci vengono serviti caldi; la crema calda infatti aggiunge ulteriore valore agli sporcamuss… ma è anche questione di gusti 😉 
Discover Bari's pasta and street food!
Opportunities to fully experience the city! And if you have an unexpected event, the cancellation is FREE .
Altri piatti e prodotti tipici
Was this post helpful? You like?
Say it with a 1 to 5 heart
Average rating 3.7 / 5. Votes received: 3