Car and scooter rental promotion
Breathe pure air in the midst of nature, visit the largest park in Bari, the 2 June park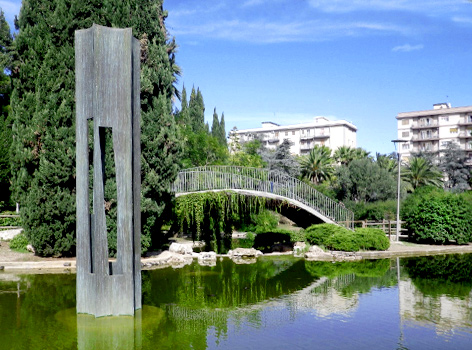 The Parco 2 giugno is the most large park in the city of Bari .
Since 1987, the year of its birth, it has become an entertainment and meeting point for many young people, seniors and families who want a little fun among nature and animals.
Yes, because the June 2nd park is not only a place of relaxation but also a moment to admire some species of animals such as ducks, sea turtles and fish thanks to a pond located in the middle of the park (main attraction of the park itself).
In addition to this, there is also the possibility of being able to take advantage of a small basketball court for lovers of this sport, or to play bowls thanks to the ad hoc tracks created in the perimeter area of ​​the large park.
The park is frequented every day by people, especially those who love jogging or simply ride a bicycle given the amount of streets and alleys available.
So the June 2nd Park is undoubtedly a great place to find some peace, except to be on the day when some event is planned; in fact, the park is often also a meeting place for events and initiatives for young and old precisely because of the large space and frequent sunny days typical of the city of Bari .
When you come to Bari it wouldn't be a bad idea to stop in this area to rest your muscles, mind and breathe some fresh air.
And if you get hungry there is also a bar !

Useful information and advice
Per raggiungere il parco 2 Giugno dalla stazione ferroviaria di Bari hai diverse opzioni:
Prendere un taxi (si trovano all'ingresso della stazione)


Noleggiare un auto

e raggiungere autonomamente il parco
Spostarsi verso Corso Cavour (circa 6 minuti a piedi) e prendere un autobus di linea AMTAB (il servizio urbano della città), esattamente la linea C.
L'autobus si ferma al Park&Ride affianco al Parco 2 Giugno.

The best-selling tours to see Bari
Opportunities to fully experience the city! And if you have an unexpected event, the cancellation is FREE .
Other things to see in Bari
Was this post helpful? You like?
Say it with a 1 to 5 heart
Valutazione media 5 / 5. Voti ricevuti: 2
Car and scooter rental promotion