Hey! Take advantage of the Booking offers to stay in Bari!
Torre a Mare: tra panorama, cibo e movida. Ecco il caratteristico quartiere di Bari con il suo porticciolo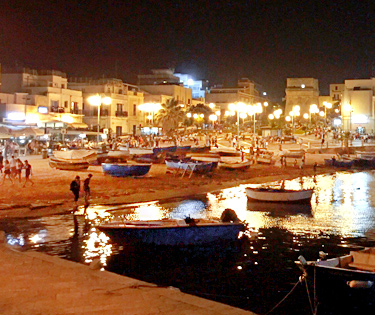 Torre a Mare, considerata quartiere di Bari, è una zona leggermente distaccata dalla città ma raggiungibile in auto a meno di 10 minuti, nello specifico percorrendo la tangenziale di Bari verso Sud (direzione Brindisi). 
Si tratta di un Neighborhood costruito intorno ad una torre del cinquecento che, a sua volta, si affaccia sulla piazza della zona in prossimità del mare.
Il centro storico di Torre a Mare è davvero molto piccolo, tuttavia è piena di tanti piccoli locali che richiamano la nightlife in qualsiasi periodo dell'anno ma in particolar modo nei periodi caldi.
Sono tanti infatti i giovani e le famiglie che affollano questa zona che, pur essendo decentrata, attira l'attenzione di baresi e i turisti; per esempio è abitudine del barese andarsi a prendere un caffè a Torre a Mare con l'arrivo delle prime giornate calde, così come la cosa diventa ancora più frequente con l'arrivo dell'estate.
Non mancano bar, pub, ristoranti e trattorie per l'intrattenimento, motivo che spinge anche molti turisti a visitare questa zona e ad immortalare il bellissimo marina che da sempre caratterizza Torre a Mare; da segnalare inoltre il molo sul quale è possibile accedere e farsi una bella camminata, ammirando il paesaggio e godendosi l'odore del mare di Bari.
Se poi decidete di andare sul molo nel momento in cui il sole tramonta lo spettacolo è assicurato.

Un esempio? ecco alcune foto di una Domenica di Giugno a Torre a Mare.
Dove si trova Torre a Mare?
Cerca Hotel e B&B, visita Torre a Mare
Other places to see near Bari
Was this post helpful? You like?
Say it with a 1 to 5 heart
Average rating / 5. Votes received:
This post has not yet received a score! You can be the first